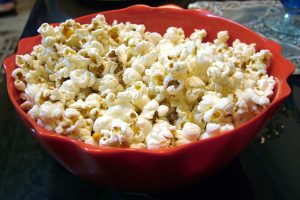 NEW YORK – It's a good thing I don't like popcorn, because if I were the kind of guy who likes to have a container of the stuff handy when watching drama play out, I'd need a bucket the size of swimming pool just to cover me through the end of the month in tracking the ongoing kerfuffle between Stormy Daniel's attorney, Michael Avenatti, and Donald Trump's so-called "fixer," Michael Cohen.
If you've stopped paying attention to this whole mess, good for you. For a variety of reasons (some of them admittedly stemming from my love for inhaling chemicals which make it extremely difficult to move my legs), I just can't get off my couch long enough to leave this story alone.
In one of the latest chapters of the saga, Stormy's current obnoxious mouthpiece disseminated a stack of bank records which showed a bunch of payments going to Trump's former obnoxious mouthpiece – along with some bank records pertaining to some other poor bastard (or, possibly, multiple poor bastards) whose name just happens to be "Michael Cohen."
Now, the attorneys for Trump's Michael Cohen are arguing to Judge Kimba Wood (who, just in case Avenatti might get the wrong impression, doesn't play point guard for the Charlotte Hornets) that Avenatti improperly and illegally obtained those bank records, and should be made to explain how he got his grubby little hands on them.
"We have no reason to believe that Mr. Avenatti is in lawful possession of these bank records," Cohen's attorneys, Stephen Ryan and Todd Harrison, wrote in a letter to Judge Wapner Wood.
Sadly, the letter didn't specify if Ryan and Harrison have any reason to believe there's a lawful purpose to their client wearing such hideous sport coats.
In response, Avenatti, always shy and retiring on social media, showed his usual reticence to accuse other attorneys of engaging in legally actionable misdeeds:
Mr. Ryan's submission on behalf of Mr. Cohen is baseless, improper and sanctionable. They fail to address, let alone contradict, 99% of the statements in what we released. Among other things, they effectively concede the receipt of the $500,000 from those with Russian ties.

— Michael Avenatti (@MichaelAvenatti) May 9, 2018
Meanwhile, some third-party observers have raised questions about who is paying Avenatti – possibly because somewhere along the line, they joined Avenatti in forgetting that he's supposed to be representing Stormy Daniels, not appearing on CNN so often they might as well give him his own fucking show.
"Daniels's previous lawyer advised her to stick to her agreements," wrote Mark Penn. "In contrast, Avenatti okayed her violating with impunity her non-disclosure agreement on '60 Minutes' despite a binding arbitration judgment against her. She acknowledged on Twitter that she is not paying for her lawyer. So who is? And did he indemnify her against all multimillion-dollar penalties?"
If you're wondering who Mark Penn is, it doesn't matter. Hell, if we were to ask Avenatti who Penn is, he'd probably just show us some bank records for a company that makes tennis balls.
As it turns out, Avenatti had a comeback for Mr. Penn, too, whomever he may be.
Too bad @Mark_Penn didn't do any basic research for his ridiculous piece in The Hill. Had he merely bothered to review google or this feed, he would know exactly who is paying me. And we did nothing wrong re the release of the financial info. #basta

— Michael Avenatti (@MichaelAvenatti) May 10, 2018
At some point, I think Avenatti may have started confusing Twitter with the Southern District of New York though, because he evidently thinks the social media platform is where one files "formal notice" of things nowadays:
Let this serve as formal notice – there is significantly more evidence and facts to come relating to Mr. Cohen's dealings and Mr. Trump's knowledge and involvement. You can come clean now or wait to be outed. Your choice. We have only just begun…#Basta

— Michael Avenatti (@MichaelAvenatti) May 11, 2018
Even with all the recent developments and revelations in this clusterfuck of legal and political wrangling, I still find myself with more questions than answers.
Was Avenatti's disclosure of Cohen's bank records (and those of the other poor bastards by that name) illegal?
What does it mean when Avenatti says "more evidence and facts to come"?
Will the court sanction Ryan, as Avenatti suggests is possible?
Who the fuck is "Ryan" again? Did Harrison Ford play him in a couple movies before the character somehow got way younger and was then forced to watch himself be depicted by Ben Affleck?
Ah well…. I'm sure the answers to these and other questions will be clarified soon. I don't know about you, but I can't wait for the next episode of This Ain't The Apprentice: A Pathetic, Non-XXX, Presidential Self-Parody. My only gripe is it's not on Netflix, where I could binge it all at once and get it over with.