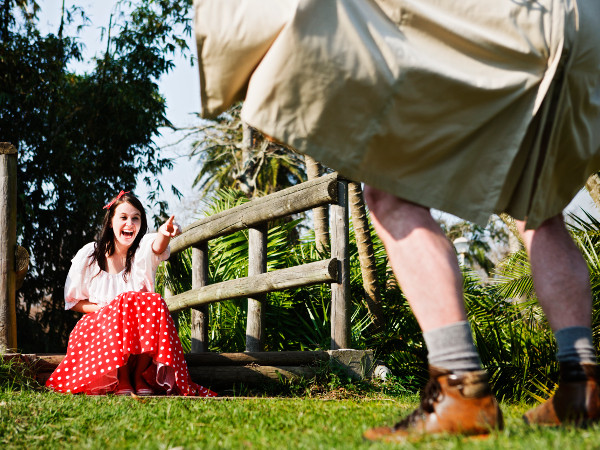 LONDON – I'm beginning to understand why a lot of people don't trust the media these days. Not only does the modern media routinely sensationalize stories and try to pass off opinion as fact, but it also appears to have trouble merely citing the same facts consistently within a single story.
Take, for example, this piece claiming men who are hooked on porn "want bigger willies."
"More than twelve million British men want bigger manhoods after getting hooked on porn, research reveals," the article claims.
I imagine you're wondering how The Sun came up with this "more than 12 million" figure. Reading the article won't help you figure it out, because depending on which paragraph you read, you'll have drastically different numbers at your disposal in trying to answer the question.
"The report by One Poll for International Andrology, a penis enlargement clinic, found 8.91 per cent [sic] of men watch porn and as a result 50 per cent [sic] of them want to be bigger," the article states in one paragraph.
Unless England has a much larger population than I've been told, 50 percent of 8.91 percent is 4.46 percent of English men, which is not more than 12 million. The most recent figure I've found for the population of England is 53.01 million. If roughly half that number is male and 8.91 percent of them watch porn and 50 percent of those want a larger penis, the total sum of English men with porn-penis envy comes out to 1,180,797.75 men – with one of them being only three-quarters of a man, which could indicate he's Nigel Farage.
In another paragraph, the same article claims "81.9 percent of UK males" admit to being "porn fans." If we assume being a "porn fan" is the same thing as being "hooked on porn," then the final tally of English men hooked on porn and feeling inadequate in the dick department comes out to roughly 11,807,977.5 men, with the final half-man being accounted for by Piers Morgan, probably, unless he's considered a New Yorker now, in which case President Trump probably should call in an airstrike on Manhattan.
Anyway, whether it's 1.8 million Englishmen who want a bigger cock or 11.8 million Englishmen who are deeply unhappy with the size of their "willies," some guy named Amr Raheem associated with International Andrology claims "wanting a larger penis does not seem to be an inherent male anxiety or desire but develops later in life."
I'm guessing this Raheem dude has been hung like a fucking horse since birth if he believes this, because in my experience, every guy wants a bigger penis (except maybe this guy) long before he's watched porn. Raheem also claims among men who don't watch porn, only 30 percent would like a larger penis, which doesn't sound right to me either.
When I think back to the days before I watched porn, for example, I certainly wasn't happy with my penis size. Granted, I was only six years old at the time and my penis was just .819 inches long. As I recall, 100 percent of me wanted it to be 891 percent larger.
I suppose the important thing here isn't the question of whether The Sun needs a better copy editor, or even whether my own cock is still too small. The important question is what the eggheads at International Andrology can do to make all our dicks bigger.
"Chronic scrotal or testicular pain – medically termed chronic orchialgia – is a common condition that affects the male population and is characterized by intermittent or constant unilateral or bilateral testicular pain," the group states on its website. "Occurring for at least three months, that has a significant negative impact on daily living and physical activity."
What the fuck? How is reading about ball and cock pain going to help me grow a bigger dick? So far, all it has accomplished is making my balls recede so far into my body, they're pressing on my breakfast (which, coincidentally, was a plate of huevos rancheros that set me back $8.91).
Maybe the women of England can help? Women are supposed to be more rational and even-keeled on this penis-size subject than we insecure, penis-obsessed menfolk, after all.
"The national average size is 6.5 inches but 40 percent of women also said they wanted their partners to be bigger," The Sun article reports.
Fuck me. Four in 10 women want their partners to have bigger cocks? I don't like these odds, because I'm betting the other six in 10 are nasty-looking chicks I wouldn't want to fuck anyway, even if they don't mind my cock being only 50 percent of 8.91 inches.
Let's get more info from Dr. Raheem, who may not know much about porn-penises, but on the bright side has a name that would work splendidly for a Marvel super-villain
"Most men have no measure of a normal-sized penis since it is unlikely that a man will ever see another man's genitalia in an erect state," Raheem said. "Porn, now an established part of British culture, is partly responsible for altering men's perception of normality and fueling the aspiration to have a much larger penis."
So, most men will never see another man's genitalia in an erect state, despite the fact 89.1 percent of them watch porn? What? These men are watching porn with their eyes closed? Or are they watching only lesbian porn involving women wearing massive strap-on dildos, which they're mistaking for real penises?
Before we go, one last "fact" from International Andrology: "Also known as penoplasty, penis enlargement is the most sought-after aesthetic medical treatment for men. This is not surprising, since 45 percent of men report that they are dissatisfied with their penis size."
OK, so 50 percent of men who are hooked on porn want a larger penis, but only 30 percent of men who don't watch porn want a more prodigious schlong, which somehow works out to 45 percent of all men wanting bigger willies.
Great. Now I have a terrible math headache to go along with my chronic orchialgia. Thanks a lot, International Andrology.