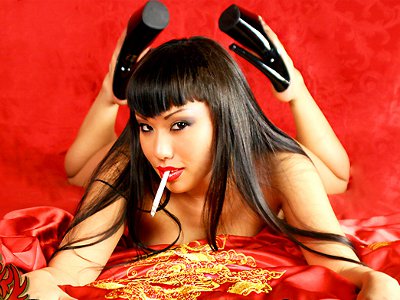 NEW HAVEN, Conn. – Anything that incorporates an element of the taboo is ripe for exploitation as a sexual fetish. The owners of DragginLadies.com discovered that long ago.
The long-running, mobile-friendly website offers beautiful women of all sizes, shapes and ethnicities smoking long, luxurious cigarettes and participating in hardcore action. All of the women are real-life smokers, not actresses putting on a show. For true smoking fetishists, the distinction is important.
Following an update, the associated affiliate program re-launched this week with an unusual revenue model: Affiliates earn $.01 per sale plus a 20-percent recurring revenue share for sign-ups they refer themselves. In addition, they earn a 5-percent recurring revenue share on sign-ups referred by affiliates they refer. Payments are delivered monthly via PayPal, check, direct deposit or Western Union.
"Our affiliate program is designed for those who want to market and sell memberships to the world's premier smoking fetish website," a spokesperson noted. "We're committed to providing the best ways to maximize income generation and the most flexible marketing tools in the industry. The compensation plans in our program rewards quality marketing practices and results, delivering sustainable long-term income to our dedicated affiliates."
Marketing materials include banners, free-hosted videos and image galleries. Affiliates may link to any page within the website from membership sites, free sites and blogs.