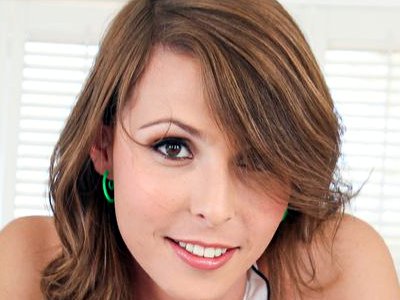 By Peter Berton
BAKERSFIELD, Calif. – In June 2012, then-23-year-old Sienna Grace started the process of becoming the person she knew she was meant to be.

Less than two years later, in February 2014, she was named Shemale Yum Model of the Year during the 6th Annual Tranny Awards. Even in the fast-paced adult entertainment world, Grace's rise to prominence might be called meteoric.
She said her participation in adult entertainment, and especially the award, have helped her gain the upper hand in a lifelong battle with self-esteem.
YNOT.com asked her to explain.
YNOT: What about your background contributed to an adversarial relationship with self-esteem?
Sienna Grace: I was born and raised in Bakersfield, Calif., and still live in the area. Growing up as the oldest child, I was conditioned to work in the oilfields and not much was expected of me.
I was set up for failure. I knew this, because I had been hiding a secret since a very young age.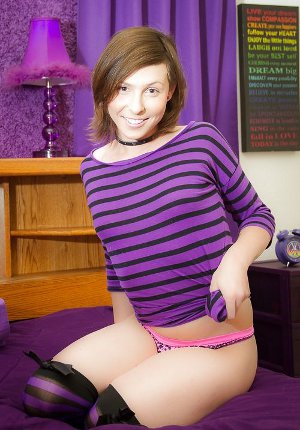 All I could ever think about was getting away from my family, so I could transition and be happy without ridicule. Coming out at age 23 after stupid mistakes and multiple overdoses, I realized life is too precious to waste. It was time to make the change.
After my last near-death experience, I quickly scrambled to find female hormones. I knew life would not be easy from that day on, but my life had no purpose and I was willing to take the risk.
The moment I swallowed the first [hormone] pill, I knew I'd made the right decision.
Why did you decide to work in the adult industry?
I had been a long-time viewer of transsexual porn, and I wanted in on the action. I waited so long for this body, and what better way to test it out than in porn?
[Becoming an adult performer] was one of the best decisions I have ever made. It has driven me to find purpose in my life. I am extremely grateful for all the opportunities that have been given to me. I had no idea things would take off like they have.
How would you describe yourself, in terms of your appeal as a T-girl performer?
I'm not sure what appeals to everyone else, but I just try to be myself and have a good time. I've always been an entertainer of many sorts, and I love making people happy — anything to put a smile on someone's face.
Unlike many other T-girls, you have a very natural, authentic look. You don't wear a lot of makeup and dress in outlandish clothes. In fact, you almost seem to downplay your sexuality. Is that deliberate?
I guess you could say it's deliberate. There isn't much about me that I dislike, as I try my best to accept the body I have been given.
I have no idea what the future holds for my appearance, but everything is centered around my personal happiness first. I like to say, "If it's not broken, then don't fix it."
What are the pros and cons of being in porn, from your perspective?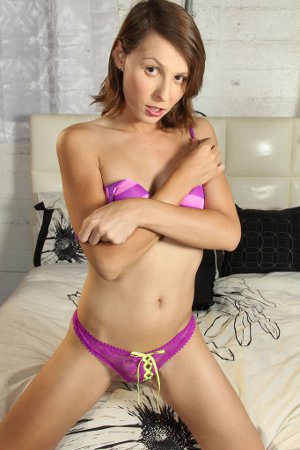 The only con I can list is the travel distance to [Los Angeles], where most of the shoots take place. I am fortunate to live within driving distance, but I have plans to move closer by the end of the year.
Some of the pros include meeting interesting and fun people, having a job I love and the freedom of not being tied down to a normal schedule. Porn has opened many doors for me, and I look forward to each shoot that takes place.
What challenges have you faced so far, and what have you achieved?
I have been battling a genetic skin condition called Psoriasis for the past six years, and I honestly did not think I would have a career [in porn]. The days when I'm able to shoot are limited, and it's very stressful not knowing when I will be able to do the next shoot. It is something that haunts me and is very difficult to get under control.
I have a few different methods for keeping my skin looking healthy, but sometimes even those methods fail to keep me clear.
More than anything else, I absolutely hate turning down photographers for shoots when my skin has flared up. I do my best to manage, and try not to let it get me down.
I have achieved a lot in my first year, and I can't wait to see what else is waiting to be conquered down the road. Just getting into porn was a dream come true for me, as I thought I would never be able to step in front of a camera due to my skin.
I deeply thank every producer and photographer who has given me the chance to live out my dreams. Porn has truly given me a better quality of life.
If you could pick the perfect on-screen co-star, who would he or she be?
Nobody specific. I am very open-minded about who I work with. I am attracted to males, females and transsexuals.
People with playful personalities are my favorite. I haven't had any bad experiences with other performers, and I doubt I ever will.
I am easy-going, and I believe others in this industry enjoy their work as much as I do. When you love your job, it really isn't a job — especially when sex is involved.
What are your long-term goals?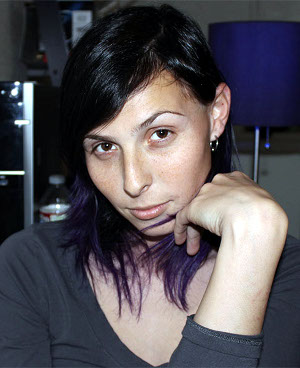 I just want to be happy. I get a lot of satisfaction out of helping others and showing people that anything is possible in life. I never thought I would make it this far, and I constantly encourage others to chase their dreams.
We are the only ones who hold ourselves back by setting limits. I've realized I can have anything in the world if I want it badly enough.
Life is too short to get caught up in things that don't matter. I want to make a positive impact on the world, and I'm just thankful that I get the chance to show everyone who Sienna Grace really is.
What do few people know about you?
There isn't much people don't know, as I'm very open and honest about my life. I'm what I call a "life artist," turning everything I do into something fun, interesting and attention-grabbing.
I enjoy playing mind games with unsuspecting people, and I'm a total fool in public. I make sure to entertain and get my point across in whatever it is I am doing. I push for change in this world, and there's no better way than to mix things up and challenge the norm.