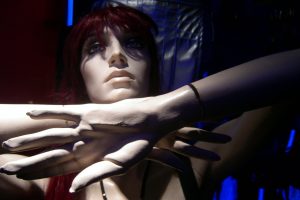 People talk a lot about sex robots. And though no such thing as sentient robot being actually exists, we are already struggling to figure how this technology may fit into our world. There are existing organized campaigns against the development of sex robots, formal academic studies, laws banning their use and a litany of debates discussing should one have sex with a robot or if it should be legal.
Now, you can add starring in an erotic film to this list.
In a collaboration with Canadian sex doll manufacturer Aura Dolls, a sex robot — well, a sex doll, but the mainstream doesn't put too much emphasis on accuracy, so why should we? — will be featured on Adult Time's web suspense series Future Darkly.
"I believe we are one of the first mainstream porn companies to shoot a threesome scene featuring a synthetic woman," Bree Mills, the writer and director of the episode, said to the Sun. "We've certainly been floored by the overwhelmingly positive reception to this scene, which I believe is one of the first in mainstream porn to feature a full sexual encounter with a silicone woman."
In the episode, titled "The Aura Doll," a young woman named Becca (Whitney Wright) meets an older gentleman named Robert (Tommy Pistol) for a threesome. Instead of producing a human partner, however, Robert introduces "Harper," an Aura Dolls model. Per Aura Dolls, "Harper," an Irish-Canadian silicone gynoid with blonde hair and hazel eyes, "loves to have fun and is very social but also enjoys deep sensual conversations and doesn't mind listening to you all night long."
Director @TheBreeMills brings a visionary tale to life about @TommyPistol's desire for @whitneywrightx to join him and his unique girlfriend for threesome in 'The Aura Doll'.

Enjoy the start of season 2 of #FutureDarkly on https://t.co/5eE2Knbb9u now! pic.twitter.com/v79hFJRQaM

— Future Darkly (@FutureDarklyCom) February 14, 2019
Aura Dolls does not sell its dolls. Instead, it rents the dolls out for time with clients. Sessions with "Harper" starts at $90.00 CAD for 30 minutes.
There is a subgenre of sex doll porn that has proliferated in recent years. Since the advent of hyper-realistic silicone dolls, such as the RealDoll, amateur videos of copulation with the mannequin-like sex toys have appeared on the various tube sites. Major studio productions featuring sex dolls, however, have been rare. Wicked Pictures' 2014 comedy, The Real Thing, starring Stormy Daniels — as well as her RealDoll — is one noteworthy example.
The introduction of artificial intelligence offers to make the dolls more realistic, adding limited interactivity that could help bridge the "uncanny valley" — which is the sense of unease a viewer has when looking at something that is close to real but clearly artificial. Depending on the complexity of the setup, a sex robot could move its head, track you with its eyes, open and close its mouth, move its eyebrows and eyelids and speak with believable mouth motions. Future upgrades may add more body motions, including articulation to the arms, legs, waist and back. Technology is not there yet, but that doesn't stop people from worrying about it.
It is the "uncanny valley" that typically stands as an obstacle, keeping sex dolls and the projection of sex robots squarely on the side of taboo.
"Synthetic relationships are traditionally seen as being very taboo but, as technology, sexual discourse, and the digital age advances, it is becoming an increasingly hot topic," Mills added.
The new six-episode "Future Darkly" season will air from February to July.
Image via Marco Michelini.