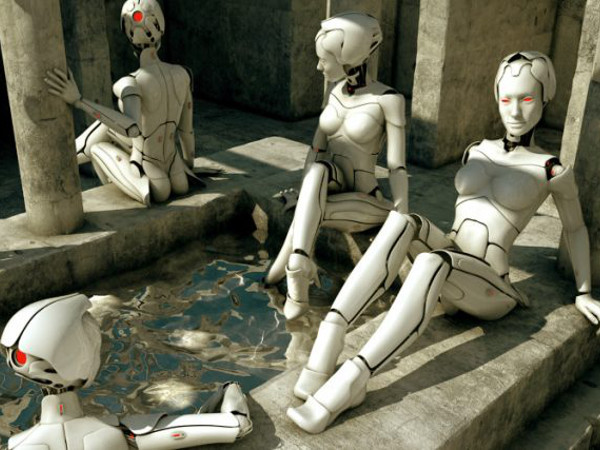 SCHENECTADY, New York – I suppose the real question is whether taking a person's job counts as "injuring" a human. If so, so long as sex robots are designed in accordance with the Three Laws of Robotics, Ela Darling and her peers needn't worry about being replaced by them.
"Sex robots are going to be a game changer," Darling recently told the Daily Star. "Right now, we're at the stage where sex robots are being invented and the next step will be everybody has a sex robot… I do think at some point people will be having sex with sex robots instead of people."
On the one hand, if sex robots do eventually replace human porn stars, it would be real shame for all involved. Hell, the sex in porn is robotic enough when it's performed by humans. Just imagine how stilted and scripted it will all seem once the performers are merely responding to programmed commands.
While the focus of the Daily Star piece is clearly on female porn stars, I can't see any reason to believe robotic porn stars would only come in one gender – or in a gender that is static, for that matter. After all, with the right removable appendages and modular body features, a robot star conceivably could be a female "teen" for a Monday morning shoot, then reconfigured to be a gay "bear" by lunchtime.
Honestly, the more I think about it, the more I like this robot porn star idea. Just think of all the headaches such robots could solve, from eliminating the need to find last-minute replacements for flakey performers who fail to show up on-set to obviating the need to keep syringes full of erectile dysfunction drugs around to address wood-keeping issues.
Robot porn stars won't need agents, presumably, nor would they have boyfriends or girlfriends who insist on hanging around the set, irritating the film crew and inflating the producer's catering bills.
Best of all, when every porn star is a robot, it might finally shut up Michael Weinstein and the AIDS Healthcare Foundation.
Oh, sure, I suppose Weinstein would still say the robots should be forced to use condoms to avoid giving porn viewers the idea "the only kind of sex that's hot is unsafe sex," but he certainly couldn't complain about the risk of disease transmission between porn-androids.
Beyond putting human porn performers out of work, there are some other potential issues with robot porn stars, of course.
For starters, speaking of the Three Laws of Robotics, it would be difficult to get a robot porn star to serve in a dominant capacity in a BDSM shoot that paired the robot with a human submissive –- or even to perform in another capacity on such a shoot without disrupting filming, depending on how much of a stickler it is about the "through inaction, allow a human being to come to harm" clause in the first law.
The good news is, we can rely on robot subs not to lash out at human doms because doing so would risk violating the first law. To assure the same robot won't dismember a robo-dom in self-defense, however, the producer would need to explicitly instruct the robo-sub not to do so in advance of the shoot, taking time to assure the robo-sub failing to fight back won't harm any people, or allow harm to come their way.
Rather than fight the future and resist the possibility of robot porn stars, I believe we should embrace and encourage such a development.
Accordingly, let me be the first to speak the refrain I'm sure will come to be commonplace within the adult industry before too long: I, for one, welcome our new insect porno-robotic overlords!