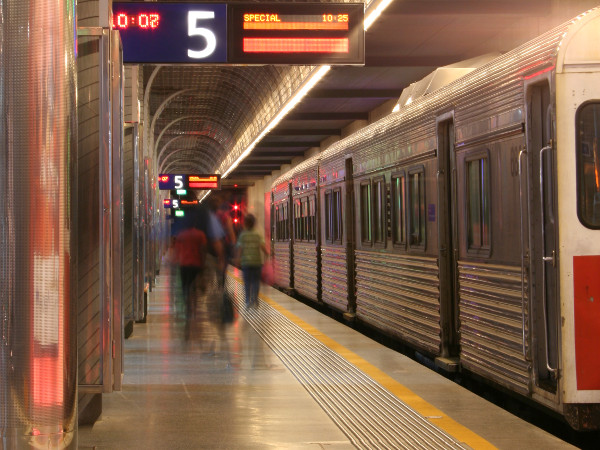 NEW YORK – I must admit, so far as dumb porn-publicity ploys go, at least this one makes sense from a nomenclature standpoint.
With New York Governor Andrew Cuomo backing the idea of corporate sponsorships for New York City subway stations, it was probably only a matter of time before one publicity-seeking porn company or another stepped up to make its pitch.
Obviously, there's no way a porn company is going to get past New York's public relations goalkeepers to associate itself with the city's public transportation system in such a way, but at least the name "RedTube Station" (or something similar) would make sense within the peculiar parlance of subway systems.
Granted, calling trains "tubes" is more of a British thing, but the opportunity to turn this suggestion into a pun-fest hasn't been lost on RedTube's management.
"Should we make it through the application process, we were thinking we could literally adorn the station we sponsor as well as a number of trains in red/RedTube branding so people can actually ride a red tube," RedTube Vice President Alex Taylor wrote in a recent letter to Cuomo.
As unlikely as the prospects of a RedTube-themed subway station sounds, it appears there's relatively little competition for the (to this point merely hypothetical) ad space, since the only other entity to publicly express interest has been People for the Ethical Treatment of Animals — whose concept for a station name might not sit too well with New York companies that provide horse-drawn carriage rides.
"Kudos on your plan to sell naming rights to New York subway stations to companies that contribute a significant fee for upkeep," PETA's Senior Vice President Dan Matthews wrote in a letter of his own to Cuomo. "PETA will be first in line — to purchase rights to rename the 59th Street-Columbus Circle station 'Carriage Horse Cruelty Station.'"
RedTube does have one advantage over PETA here, though: If I were to bet which entity could come up with $600,000 on short notice, my money would be on RedTube parent company MindGeek. Plus, unlike PETA, RedTube does have some history as a corporate sponsor in the broader eastern seaboard, having already established itself as a backer of the Brookline, Massachusetts, amateur soccer team Washington Square FC earlier this year.
Sponsoring a high-profile subway station for $600K is a far cry from footing the bill for an amateur soccer club's kits, of course, but let's suppose the RedTube subway station becomes a reality. Given the porn industry's well-established penchant for copycat marketing, what other adult companies might follow suit?
The publicity-hungry CamSoda seems like a natural fit for this opportunity, but subway stations may be a lot harder to fake than a shark bite, so maybe the live cam company could go another route — like sponsoring Anthony Scaramucci as an acappella busker of sorts. Although, come to think of it, standing there screaming obscenities in a subway station is something lots of New Yorkers appear happy to do for free, so maybe Mooch the Busker isn't a winning concept after all.
I'd suggest Vivid as a subway sponsor, but since there's no disgraced celebrity angle in play, I'm not sure co-founder and co-chairman Steve Hirsch would be interested. Is there any chance Khloe Kardashian could be persuaded to huff paint off a rag and then perform a striptease at Bushwick and Aberdeen? I think such a display would be all the porn-subway nexus Hirsch would need to float her an open letter of some kind.
It's been at least a week since xHamster publicly offered someone famous a job. Maybe they're saving up publicity steam to put together a Debbie Wasserman Schultz package deal, now that an absconding fraudster of an IT worker has thrust the former Democratic National Committee chair's name back into the headlines?
Thus far, Cuomo doesn't appear to have responded to RedTube or PETA, but maybe he's just collecting offers, holding off on comment until a more formal review can be initiated. If so, here's hoping the process is handled with appropriate transparency. Otherwise, it's going to be hard to see all the applicants' tits — or their teats, for that matter.
Image © Aqua Media Limited.