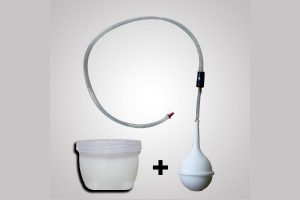 LOS ANGELES – Remember when Milli Vanilli got busted for not being the real singers behind hits like "Girl You Know It's True" and "Blame It on the Rain"? Even after they released their confessional follow-up hit "OK, Girl, So Maybe You Know It's Not Entirely True," the world never fully forgave them for their vocal sham.
Even if you weren't a fan of theirs, you had to be a little pissed off over the Milli Vanilli deception. Making matters worse, the Recording Academy took away the duo's "Best New Artist" Grammy in response to the lip-synching scandal, removing what should have been a permanent stain on their pop culture record.
At any rate, I felt the same sort of outrage as I read a recent Vice piece about porn stars faking their most voluminous cumshots.
I ask you, what kind of message does faking cumshots send to all those poor, gullible viewers who have adjusted their diets, tweaked their exercise routines, or even invested in exotic supplements in pursuit of spurting semen like a pro? Are we to assume guys like Peter North have been 'ejacu-lying' to us viewers, all along? Can anything we see in porn be trusted now?
If you ask me, this fake semen scandal is a thousand times worse than that shit Lance Armstrong pulled – unless in addition to blood-doping, Armstrong was also secretly writing a motorized bicycle across the breadth of France.
I could have handled it if the 'big reveal' here had been the use of performance-enhancing drugs, or even performance-enhancing vegetables. But to learn many porn producers have been straight-up faking their money shots? It's like learning not only is there no such thing as Santa Claus, but those dudes at the mall around Christmas time are wearing a fat suit under their puffy red coats, to boot.
Granted, when you stack it up against the prospect of increasing governmental regulation, promoting performer health and safety, combatting ongoing issues with content piracy, significant network security concerns, improving public perception of the porn industry, an increasing number of states declaring porn to be a public health crisis and other headline-grabbing issues relating to adult entertainment, fake cumshots probably rank relatively low on the totem pole of the concern-hierarchy.
And sure, this Vice article isn't revealing anything we haven't heard before, but this doesn't mean we should just shrug our collective shoulders and move on, though.
Let's face it; when it comes to true spontaneity, porn often comes up quite short. One of the few things which injects a little unpredictability into the porn mix is the money shot. Will it be a gusher or a dribbler? Will it hit the appointed target, or wind up smeared on the cushions of a nearby couch? Will she/he spit, swallow, or dodge the stream entirely?
Knowing some of the industry's most admired stunt cocks may be relying on fake dicks pumping out some sort of Cetaphil-based mixture not only smacks of cheap Hollywood trickery, it robs viewers of all ejaculate-based anticipation.
Porn is already filled to the brim with fake breasts, eyelashes, names, revenue figures, traffic stats and award shows; do we really need fake cum, too?
Oh well… there's no fighting 'progress,' I guess. And on the plus side, I suppose Cetaphil-semen can't impregnate anyone, so I do feel a little better about all those creampie videos, at least.