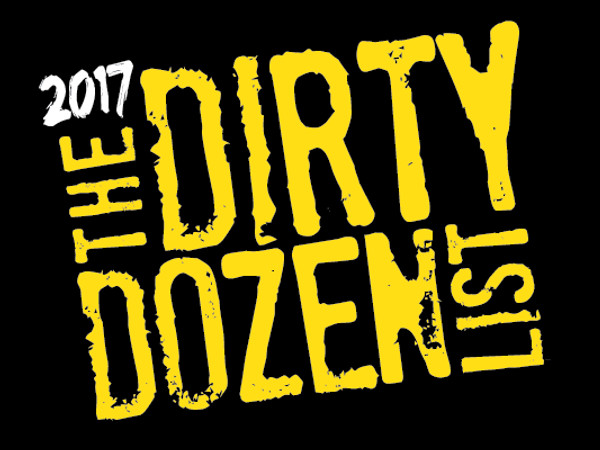 WASHINGTON, D.C. – The more things change, the more the annual Dirty Dozen Watch List stays the same.
Compiled each year since 2013 by the National Center on Sexual Exploitation, the Dirty Dozen Watch List reveals the corporations and governmental agencies NCOSE believes are doing the most harm to American morality.
Frankly, the criteria for inclusion seem a bit vague. From what YNOT can tell, any company or individual who has failed to condemn porn — or, heaven forbid, said a kind word about porn or even ignored porn — is in mortal danger of ending up in NCOSE's sights.
The American Library Association and Cosmopolitan magazine are on the list again in 2017, as they have been from the beginning. Those dangerously subversive librarians at the ALA insist on clinging to the First Amendment and eschewing internet filters, and Cosmo continues to fling racy covers and titillating articles into supermarket checkout-line racks with reckless abandon.
Also making repeat appearances on the list are:
Amazon.com, which has the audacity to sell erotic fiction, pornographic magazines and sex toys.
Amnesty International, which supports the decriminalization of prostitution as a worker health and safety issue.
Backpage.com, which no longer accepts classified ads for "adult services," but nonetheless seems destined to remain under a cloud forevermore. NCOSE alleges the company still publishes sex-trafficking ads, but disguises them.
Comcast, because it offers adult channels to its cable TV subscribers. The company also provides high-speed internet service, and everyone knows the internet is full of porn.
HBO, which produces its own programming and broadcasts programming produced by others, both categories of which are rife with graphic smut and sexual violence, according to NCOSE. Since humans are physically incapable of changing TV channels, this is a major concern.
Snapchat, which can be used to share explicit selfies. The company's new Snapcash program allows people to monetize those selfies.
YouTube, which according to NCOSE has become a "major platform" for dissemination of hardcore pornography and rape videos. YouTube also hosts videos promoting bigotry, armed insurrection and terrorism, but those are irrelevant to society's moral purity.
The 2017 list contains only three new alumni: EBSCO Information Services, Roku and Twitter, each of which is a den of iniquity in its own unique way.
EBSCO offers online library resources to public and private schools (K-12), colleges and universities and public libraries, among other clients. According to NCOSE, the company's "Explora, Science Reference Center, Literary Reference Center, and other products provide easy access to hardcore pornography sites and extremely graphic sexual content."
Roku "profits from and facilitates access to hardcore pornography via hundreds of downloadable private and hidden channels." Much like Comcast, Roku is a villain in search of a crime. None of the channels Roku streams for free contain porn. Those who wish to watch porn must pay for the privilege.
How Twitter escaped the list until now is anyone's guess, but NCOSE was aghast to discover Twitter users post porn and links to porn. "The site is riddled with sexually explicit tweets and images, many of which serve as advertisements for pornography websites or online prostitution," NCOSE noted in a statement.
One perennial member of the NCOSE Bad Boys Club is missing this year: the U.S. Department of Justice, which every year until 2017 was the NCOSE's designated Public Enemy No. 1. This time, NCOSE omitted the DOJ with the breathless hope that new Attorney General Jeff Sessions will "take robust action against the purveyors of obscenity."
It's worth noting NCOSE considers itself a warrior fighting to "defend human dignity." According to the organization's website, "All pornography is a serial attack on human dignity, identity and worth."
As a warrior, NCOSE takes great delight in wielding its Dirty Dozen Watch List as a cudgel.
"The Dirty Dozen Watch List serves dual purposes," the website notes. "In some instances, it puts entities on notice that they may soon find themselves named as a major contributor to sexual exploitation unless they demonstrate significant and sustained efforts to address their role in fueling sexual exploitation. In other cases, by placing an organization on the Watch List, NCOSE is affirming an entity's positive step towards addressing its role in sexual exploitation. However, because some such steps represent only small progress in terms of the entity's total contribution to sexual exploitation, or because we may have concerns about the entity's intent to carry through with its pledge, placement on the Watch List also signals our lingering concerns about their commitment to ending sexual exploitation."
In other words, NCOSE's notion of "human dignity" does not encompass freedom from public shaming for legal activity the group finds morally repugnant.
Irony is a strange and wonderful thing.