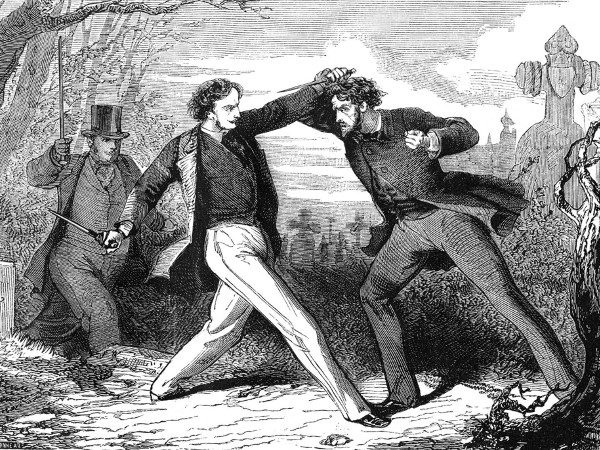 ADA, Okla. – In adult entertainment circles, it's been fashionable for some time now to consider printed adult publications "dead," or at best increasingly irrelevant, just another hard-product casualty of the digital age.
This may be so from the prospective of producers and publishers, but at least one Oklahoma-based porn consumer has conclusively demonstrated porn magazines are not entirely obsolete, especially if you're planning to stab your neighbor.
Employing a quasi-erotic form of proactive self-protection, a resourceful fellow named Donald Gene Gaither girded his loins by layering them with porn magazines and duct tape before setting upon his neighbor Troy Bagley's home with knives in hand.
Apparently, this was not a spur of the moment decision on Gaither's part, but the climax of an ongoing dispute between the men.
"It had been brewing for two weeks," said a neighbor, presumably not in reference to whatever it is growing in Gaither's straggly beard.
Although clearly emboldened by his porn-reinforced midriff, Gaither wasn't so confident as to think himself bulletproof.
"He appeared to be intoxicated somewhat, [but] he did comply with the officer when he ordered him to the ground – at gunpoint," said Sheriff John Christian (which is a terrific name for a sheriff, by the way).  "And he was holding knives in both hands whenever the deputy confronted him."
As for Gaither's improvised body armor, Christian said the would-be assailant learned the technique in one of society's best-established incubators for martial innovation.
"The suspect told him that he had been in prison before and that was a way that they used to protect theirselves in a fight," Christian said.
Alas, the smutty-but-useful magazines were never put to the test, because Bagley took the coward's way out, dialing 911 upon being confronted with the well-prepared Gaither standing on his porch and laying down the gauntlet by allegedly shrieking "Come out and get some!"
Presumably, the "some" to which Gaither referred was not pornographic material, but swift, violent retribution for Bagley getting him kicked out a local trailer park.
"Gaither thinks that Troy told his boss that he stole Copper out of this house, but Gaither says he didn't, it's here say," explained an unidentified neighbor with a clear gift for confusing use of pronouns. It's also possible the neighbor in question meant "hearsay" or even "heresy." (To be fair to the good people from KXII-TV 12, it's probably hard to tell when trying to decipher an Okie accent.)
In any event, Sheriff Christian said Bagley did the right thing in not taking the law (or a pair of knives, for that matter) into his own hands.
"[Bagley] says that he knew if he went outside someone could've possibly been killed," Christian said, applauding Bagley's firm grasp on the obvious implications of knife-fighting.
Gaither explained his knife-wielding and porn-magazine-wrapping as a function of being in "survival mode," which is a lot like "Survivor mode," only without a deserted island, a bunch of other douchebags and a CBS film crew.
As a consequence of his overly aggressive approach to dispute resolution, Gaither has been charged with "assault with a dangerous weapon" and "possession of an offensive weapon," the latter of which seems unfair.
I think it's a bit hasty to term the adult magazines in question "offensive" without knowing more about their specific nature. Was he wrapped in a publication that truly rises to the realm of indecently hardcore, like a particularly randy edition of Private, or are we talking about something significantly tamer, along the lines of a back issue of Gent?
I suppose those are questions for the judge to sort out. For Gaither's sake, I hope he draws a jurist who's sympathetic to the erotic arts.