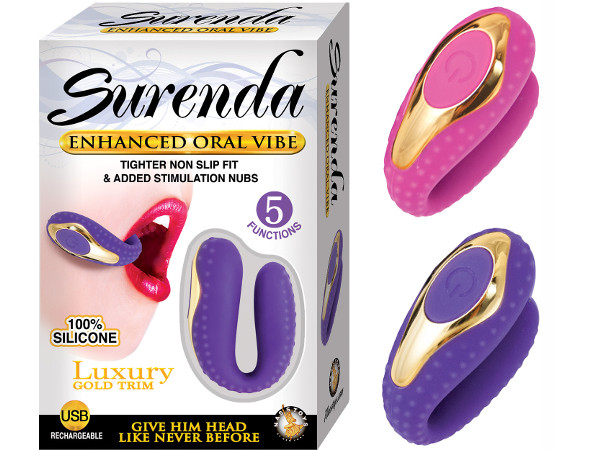 NORTH BERGEN, N.J. – The Surenda Oral Vibe caused quite a stir when Nasstoys released the product in 2015. Based on feedback from customers, buyers and reviewers, the company updated the device, creating the new Surenda Enhanced Oral Vibe.
Both the Surenda Enhanced Oral Vibe and the original hook into the cheek giving a whole new dimension to oral lovemaking. Like its progenitor, the enhanced version is made of 100-percent body-safe silicone, features five power functions and is fully USB-rechargeable.
The Surenda Enhanced Oral Vibe's new features include a tighter non-slip fit that contours to the mouth along with added stimulation nubs cascading down both sides for added pleasure.
"The Surenda Enhanced Oral Vibe is a product that we anticipated to be very popular based on the proven success of its predecessor," said Nasstoys Sales and Marketing Director Kathryn Hartman. "Adding more features and a more vibrant color combination really took this product to the next level."
The new vibe is available in pink with gold accents and purple with gold accents.
For more information, visit Nasstoys.com or email sales@nasstoys.com. Follow the company on Twitter, Facebook and Instagram.