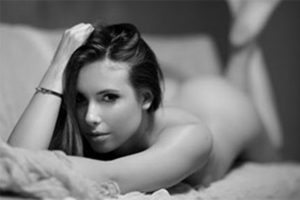 Model Mayhem touts itself as "the #1 casting website for professional models, photographers, makeup artists, stylists, designers and digital artists."
Like every other similar sort of networking site, there are different levels for different types of artists to create a profile, upload photos, connect with other industry professionals and find work.
Except, of course, if some of your work is linked to the adult industry.
The site says right at the top of its "Rules" page that there's no porn allowed: Do not use Model Mayhem to network for or solicit any pornographic, sexual, or imminently dangerous content or activities of any kind. Do not link to pornographic websites.
Quick perusal of images and content posted to the site shows significant ambiguity regarding what's considered "pornographic" and "sexual," as well as "imminently dangerous." With many services these days, subjective and inconsistent rule application and enforcement is par for the course, so this ambiguity is not surprising or new.
What's new about Model Mayhem's most recent action, however, is the apparent unsaid rule that a person who works in the adult industry may not use the site for adult industry unrelated projects.
Case in point: On July 9, Casey Calvert posted the following message to Twitter: "RIP to my 9 year old @m_mayhem account… Expect a rant about their absurd discrimination once I gather my thoughts."
Rant posted on my insta story (caseycalvert) if you wanna read it. https://t.co/86saSSjqIn

— Casey Calvert (@caseycalvertxxx) July 10, 2018
I went to Calvert's Insta story to get the scoop, which she shared in a series of posts (transcribed below):
Rant incoming.
I just love being told that I'm a whore and can't possibly be anything but a whore
I've been on Model Mayhem since 2011. The whole point of one of my very first photo shoots was to get pics MM would approve, so I could make a profile. Back when I was a travelling fetish/art model, I booked 50% of my work through MM.
I worked with a lot of amazing people because of MM. I met a lot of friends because of MM.
When I started doing porn, I altered my profile to reflect my move to LA, my lack of travel, my rates. I started using the site a lot less, because I didn't need it, but I still used it sometimes. I'd book a paid gig when work was slower, or something trade with a photographer I loved.
The first time I got removed was my fault. I contacted a girl about a fetish shoot, for a custom video. She reported me, and that's when I learned that, essentially, while fetish is allowed on the site, if you do adult, you're not allowed to network for it. Then it's considered "sexual in nature". Isn't all fetish sexual in nature? Yes. But apparently a GWC taking feet closeups is not nearly as threatening as a porn star trying to hire a girl for foot fetish.
The second time was the most absurd. I got a super creepy message from a guy wanting to shoot a POV scene, so I reported it, like a good little MM citizen. Next thing I know, I'm shut down. Turns out I had "please contact my agent," and an email address in my profile page. Apparently that's also adult networking. I removed the line, and was reinstated.
This time? Today. Well. I'm working on a mainstream movie (you'll hear more about this soon), and contacted some girls to see if they would be interested in auditioning for one of the lead roles. We were having a hard time casting her, and the director wants a model type, so I figured this could solve the problem. The movie has some simulated sex scenes in it. Some girls reported my casting. You can see where I'm going.
When I wrote to the mod to get reinstated again, I was told that because I am a model, I am only allowed to use MM to further my modeling career. I explained to her that sometimes models work behind the camera as well; I asked why they don't encourage that on MM. I wasn't told. I explained to her that the movie was not porn, I sent her the IMDB page, but I was told that I was a repeated rule violator, and someone they didn't want to have on the site.
She told me, through a carefully crafted email, that I'm a dirty pornographer, and I don't deserve to use their pristine, precious website.
I won't be getting my account back, nor do I really want it. Their rules are so absurd and antiquated, and I'm so fucking tired of fighting to be in space that doesn't want me. I shouldn't have to fucking fight at all.
I'm a pornographer, yes. I'm also an art model. I love art modeling. Guess what, MM? I can fucking be both!
If you see me as a victim, then rescue me. Help me get out. If you see me as an empowered woman, then wtf should it matter if I do porn? But it's neither one of those things, is it? You only see me as a whore.
End rant.
Calvert's rant alleges discriminatory behavior that is frustrating on multiple levels — and also, sadly, unsurprising.
In an unrelated yet strangely similar incident, a writer from our sister site ynotcam.com recently attempted to sign up for Model Mayhem's mailing list. Literally, not an account. Just the mailing list for updates and "no reply"-level information from the site.
She was told via email:
Model Mayhem carries a zero tolerance policy for networking for adult content. I am afraid we may not be the right sight for your networking needs.
Your loss, Model Mayhem. Your loss.
PS We love you Casey! You're artist AF.