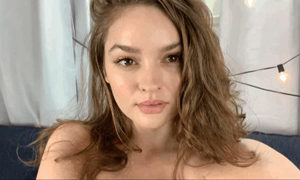 Mary Moody, the gorgeous Penthouse Pet, popular cammer and in-demand girl/girl performer is unveiling another talent.
She's debuted a blog on her official website and it shows this beauty not only has brains, but a knack for writing. Her first post is "A Behind the Scenes Look at Content Creation," which gives readers a look at how sexy content from the luscious model is created.
Mary, who began camming three years ago this month, talks about the learning curve, some of her early mistakes and how she grew beyond them. She found that what overwhelmed her most at first, the technology, became something she truly enjoyed. She went from shooting content on her phone to a "real camera," now uses several microphones and today is excited about the editing process.
She also details how a shoot unfolds, from coming up with the concepts to the styling and toy selection to set prep, filming and editing. Things have another layer of complication when she is working with another model, which has led to many of her personal faves.
"My favorite videos are usually the ones I make with other models," Mary writes."I love exploring my chemistry on camera and sharing it with the world. One of my absolute favorite videos is my most recent girl/girl video with Lydia Love. I woke up really early and took a Lyft to her hotel room. When I got there, she was a little nervous, we talked and set up right in front of this huge window. We had beautiful natural light coming through, it was perfect. It was her very first non-solo video, and her fist lesbian experience, so we talked through all the positions and angles we wanted to capture on camera. We even practiced a few positions to make sure it looked good. She was nervous but ready, once we started filming everything just flowed. It was such an enjoyable scene to make and I am so proud of it."
Her first post went live this week with others to follow soon.
Check out Mary's blog at Mary's Blog.  Look for monthly updates to the blog.
Look for Mary and Darcie Dolcein "Sex on the Sofa With Darcie Dolce," which is available on ManyVids, as is much more Mary content.
Read the Fleshbot interview with Mary too!