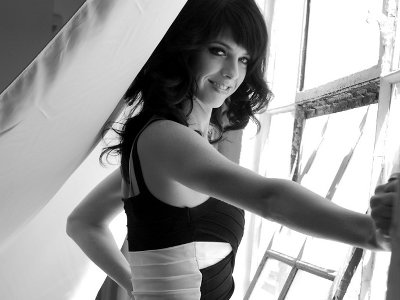 YNOT – There are cookie-cutter T-girl porn stars with big boobs and balls to match, and then there is Mandy Mitchell. Known for her girl-next-door looks, Mitchell is "all natural": no implants, no balls. She loves having sex with women, men and everyone in between. Moreover, she is gutsy, witty and has lots to say.
YNOT.com: Please tell us about yourself.
Mandy Mitchell: I'm a bisexual TS porn performer and producer. I've been primarily focused on creating content for my solo website, Mandy-Mitchell.com.

You have taken a different approach to transitioning, by choosing castration and hormones. Why did you make this choice? As well, given the number of males who likely are squirming, I have to ask: How difficult was it to choose castration from a psychological perspective?
It's kind of complicated. People always want me to tell the story, because the circumstances were rather dramatic and unique.
Without knowing how much of it to tell, I'll just say that at the time I had a rather firm belief that girls didn't have balls and I didn't want anything to do with them. A friend of mine told me about a surgeon doing low-cost orchiectomies for trans girls, and I jumped at the chance.
It wasn't difficult to choose that option at all — much harder psychologically to have a body that feels wrong. After castration, I felt really at home in my body, like it finally was whole.
When it comes to porn, you truly are open to variety. Please tell us what you do and why it appeals to you.
I have terrible ADD and I am incredibly headstrong. You combine the two, and it means I'm always trying something new and I want to do what I want to do. This has its drawbacks when it comes to working with other people, but the major benefit is it causes me to constantly experience things that most people don't.
I don't really understand most taboos, and I genuinely love making people feel amazing. So I've shot a lot of fetish, BDSM, scenes with women, scenes with men, scenes with other TSes, and scenes with people whose gender can't be summed up neatly into boy or girl.
Sometimes I explore heavy masochism, rough sex and sex that is still considered taboo by many people. But at the end of the day, I want to try it all, and I want to dream up ways to fuck that I've never seen before. It keeps me horny; keeps me sane.
So you enjoy working with women as well as men?
Yes. It goes beyond enjoyment. It's something that I constantly crave. I'm totally girl crazy.
What was it like shooting a scene with a very pregnant woman?
Fucking awesome! A little scary, mostly because she was a friend of mine and I was terrified during the trip to [Los Angeles] from [San Francisco] and the scene would complicate her pregnancy. She was two weeks from due date at the time.
A lot of people set up shoots and flaked. Some people refused to shoot the scene because of moral objections. But my friend Muffy was really excited about doing it, and I really didn't know when I'd ever have the chance to make a porn with a pregnant pervy queer woman again.
Pretty rad.
Indeed. So what do you like about porn, and what do you dislike?
First and foremost, I love having great sex with hot, amazing people.
Second, I love that in some small way I'm contributing to improving people's sex lives and making them feel okay about their desires — that sort of feel-good, sex-positive stuff.
As for dislikes, I suppose I'm particularly sensitive to the scapegoating of transsexual women and the willing participation of many performers in isolating us.
How do you want people to think of you, both as a person and a performer?
You've totally got me there. I suppose I haven't put enough thought into the question of how I want people to think of me. I guess I want people to like me, feel encouraged by me, turned on by my movies.
Is it hard to balance your personal and professional lives?
Yes and no. I have a really active social life; a world of friends and people that I play music with. On the other hand, I have murky crossovers between my professional and personal lives that sometimes prove to be tricky and sticky.
So what are your future goals?
To keep making money [for] having good sex, for starters. I'd like to direct more. The rest I don't dare to share because I'm a very superstitious gal.