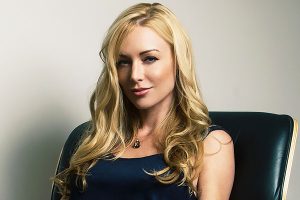 In the grand history of adult entertainment, one could say Kayden Kross occupies two worlds.
Kross began working in the industry in 2006, just as the then-porno heyday was beginning to bottom out — though no one really knew it at the time. She became a career contract star, signing exclusive deals with Vivid Entertainment, Adam & Eve and Digital Playground. Impressive, but it also speaks to an era bygone in adult entertainment.
Then, in the spring of 2015, Kross co-launched the pay-per-scene platform TRENCHCOATx, creating a space for "curated smut" in an extremely challenging marketplace – one nearly wholly changed from the industry she'd entered almost a decade prior.
Today, Kross performs in and directs her own content via TRENCHCOATx, which she took over on her own at the beginning of 2017. The site itself has since pivoted from a curation space to a boutique production house focused on crafting unique, noteworthy projects such as 2017's "Sacrosanct."
We asked Kayden Kross a few questions about her career, her key successes and her thoughts on issues impacting the adult industry today.
YNOT: You have had a very storied career – from the days of contract performers to being a writer, a voice for the industry, and now a content producer and veritable porno "tastemaker." When you look back on all the content and career moves you've made, what's resulted in the biggest wins?
Kayden Kross: I think each of the contracts I've held have boosted my perceived value as a performer within the industry, which has in turn elevated my exposure. The best contract I held was with Digital Playground. At the time, they were the number one studio that performers wanted to work with. They put out the biggest movies and handled PR well, and being marketed alongside the likes of Jesse Jane and Riley Steele and Stoya put me in an elite class from a fan perspective. I remember it being a tough decision to leave Adam and Eve for another studio because they'd always treated me well and had invested in me, but in hindsight it was the right move. Starring in blockbuster roles is a no brainer if the option is available.
The other thing that contracts have done for me is limited the amount of content I've put out, which has allowed me to go strong on relatively little work for well over a decade. Some performers shoot more scenes in a year than I've shot in my life, and unless they really have staying power they tend to get shot out that way. I never got shot out.
Another win has been the launch of TRENCHCOATx. It's allowed me to continue to control my career and image despite no longer having a contract backing me.
For all your various sites and endeavors, do they drive traffic based on star power alone? Or, what is your traffic generation strategy?
They all began on star power. Clubkayden.com launched in 2008 and then sort of ran with the pack in terms of affiliate spending and marketing. We've only recently re-launched it, though the marketing strategy hasn't changed much. My blog, unkrossed.com, also launched in 2008. It has the benefit of having a long history of original writing, link backs, and an organically-grown reader base.
TRENCHCOATx launched on the star power of myself and Stoya combined. I only brought affiliates into the mix in 2017. Before that, we relied on social media and mainstream coverage based on the novelty of one or both of us and the endeavor we'd undertaken in such a rough marketplace.
Now, as we grow our catalog and develop a reputation for high quality and unusual content, we're getting a slow and steady organic growth via word of mouth and social media. I do not spend on traditional advertising, and the sales and traffic that xxx affiliates bring is a small percentage of the site's activity daily. Most sites that link to us are mainstream.
Pictured: A throwback from 2011.
#FlashbackFriday
Been doing some things for https://t.co/hTkZbNYh1g and came across this set. pic.twitter.com/DJC6ecm3vk

— Kayden Kross (@Kayden_Kross) December 30, 2017
When preparing this interview, we noticed Stoya is still listed as a current part of TRENCHCOATx, but bio information obviously indicates otherwise. How do you navigate business relationships, specifically business with friends, that for whatever reason come to an end?
Stoya's and my relationship began on a basis of mutual respect. Even if we don't see eye-to-eye on what TRENCHCOATx should be, or if we have completely opposite ways of approaching situations, we did not lose respect for each other. I still admire the exact qualities that attracted me to partnering with her. I just couldn't recreate them in myself. It is possible to differ in opinion while still respecting each other.
In your view, what motivates fans to buy adult entertainment when there's so much free and stolen content available?
More than anything, I think quality is a motivator. There is an unending sea of free content out there, but it mostly imitates itself from one clip to the next. If a consumer can be convinced that this content is different enough to be worth upgrading to from the free content, they just might whip their credit card out and do it. We also see sales from fans who pay because they either admire a particular performer and want her to have that cash or because they admire what we do and want to reward it.
BTS shot of me directing the most perfect human being on the planet (@AnaFoxxx) in this very neat thing for @TRENCHCOATx

"You Talkin' to Johnny?" drops this month on https://t.co/wLreHbcuAK pic.twitter.com/opAlcHiR7q

— Kayden Kross (@Kayden_Kross) March 7, 2018
Hot topic round about! As a strong feminist woman, industry activist and advocate, how do you feel about: 
"Competing" performer advocacy groups?
I think competing advocacy groups need to merge. You're either for advocating for the performer, or [you're] advocating for yourself. If you're for performers, you find the common ground of performers and make it work.
The adult industry's apparent lack of #metoo moment?
This is tough. I'd argue the James Deen case was a #metoo moment, as is the Ron Jeremy case. That said, many sex workers have learned not to complain about unwanted sexual advances or assault because they are immediately blamed for it in ways and to degrees that other people are not. It frequently becomes an invite for more attacks instead of a cause for a pooling of support.
Further, we are simply not economically equipped for it. A very famous, very wealthy actress can support other famous and wealthy people, corroborate their stories and make a stand for change. Many porn actresses are living paycheck to paycheck. Making accusations not only threatens their workflow with the accused, but across the board. Finally, the nature of the work is a fantastic disguise for predators.
The notion circulating suggesting the industry open the performer pool to HIV positive performers?
Absolutely fucking not. This is not about stigma. This is about the science of how this particular disease spreads coupled with our lack of science on how to cure it.
Age verification and related access restriction?
I don't even know why this is up for debate. I want access to my content to be more restricted across the board. I do not want to be responsible for minors coming in contact with it. I do not want the chargebacks associated with kids using someone else's credit card, and I definitely don't want the legal or moral responsibility of children watching it. I think this should also apply to tube sites because my content is most surely hosted there as well.
Any final thoughts?
It's refreshing that the adult industry has finally been admitted to the conversation on ethics. Hopefully one day we will be allowed to participate in more nuanced conversations, but this is a fantastic start.
Find Kayden Kross on Twitter at @Kayden_Kross.
Must say I'm super psyched about this thing I made for @TRENCHCOATx pic.twitter.com/gvPe2HZ8j1

— Kayden Kross (@Kayden_Kross) December 4, 2017