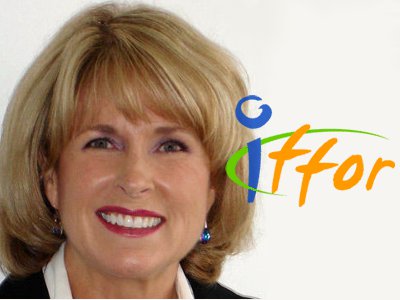 YNOT – After nearly nine years as the chief executive of the adult industry's child-protection watchdog, on Tuesday Joan Irvine resigned from the Association of Sites Advocating Child Protection to assume the role of executive director at the organization established to regulate business practices within the dot-xxx domain space. Her resignation became effective immediately.
Irvine was unavailable to comment Wednesday morning, but Stuart Lawley — chief executive of dot-xxx registrar ICM Registry and chairman of the board for Irvine's new employer, the International Foundation for Online Responsibility — told YNOT Irvine accepted the position "over the weekend." He also said she plans to divide her time between the Los Angeles area, where much of the adult entertainment industry is located, and IFFOR's headquarters in Washington, DC.
"Joan will spend time in the DC office and also working from her base in California," Lawley told YNOT. "She will also travel overseas extensively, as IFFOR is a truly international organization."
According to its website, IFFOR will be funded primarily through mandatory contributions of a portion of each dot-xxx domain registration. The organization's mission is to "promote the development of responsible business practices and conduct within the online adult-entertainment community, [and those standards] shall be incorporated into the registrant agreement of all [dot-xxx] domain names."
"We are delighted to have Joan as the executive director at IFFOR," Lawley told YNOT. "Given the mission and charter of IFFOR — to primarily serve the needs of the sponsored community — she is, in our opinion, the uniquely qualified individual for this important role."
He also said the executive director job is a full-time, salaried position and is separate from both IFFOR's board of directors — which consists of Lawley, Clyde Beattie and Sebastien Bachollet — and the yet-to-be-established nine-member policy council that will determine the regulations governing dot-xxx domains.
Whether to take the new position "was a hard decision to make, since ASACP has been so much part of my life and I've made many friends," Irvine said. "However, I felt it was important that someone who understands the industry, compliance and legislation, take an important place at the table and be a part of the policy development process to assure industry interests are best served, which is the goal of IFFOR."
Irvine said she is proud to have led the adult industry's online child-protection efforts through a period of tremendous growth and change.
"It has been my honor to serve ASACP, child protection and the [adult] industry for the last nine years," she said. "When I started in 2002, ASACP was a grassroots, volunteer-based organization. Since then, with the support of its advisory council and the industry, ASACP has grown into an internationally recognized online child-protection non-profit that has implemented award-winning programs."
Of the programs ASACP implemented during her tenure, Irvine said she is most proud of the Restricted to Adults website labeling initiative. She said she feels the program not only has vindicated the adult industry's online distribution methods, but also has demonstrated the industry's ongoing commitment to providing explicit adult entertainment in a child-safe manner.
"More than 4.5 million websites have self-labeled with RTA, which proves that the adult industry is concerned about keeping children away from its sites," Irvine said.
ASACP founder Alec Helmy indicated surprise at Irvine's resignation, but said her departure will have no effect on the organization's mission or goals.
"News of Joan Irvine's unexpected resignation surprises and saddens all of us involved with the organization," he said. "It takes an extraordinary leader to turn a grassroots project into a world-renowned association, and Joan Irvine did just that.
"With a rock-solid foundation built by its tireless staff and passionate industry contributors, ASACP will forge ahead, building upon nine years of remarkable achievements and successes," he added. "We wish Joan the best in her future endeavors."
Tim Henning, a digital forensics expert who has managed the development of ASACP's infrastructure and reporting hotline since the organization's founding in 1996, will serve as interim director.
"It has been a great experience to work with Joan for the past nine years," said Henning, who served as vice president before Irvine's departure. "I have learned a great deal from her during that time. I am going to miss her endless energy and the strength of conviction and purpose she brought to the ASACP mission."
Lawley told YNOT ICM Registry had received 600,000 dot-xxx domain pre-registrations by Wednesday morning.