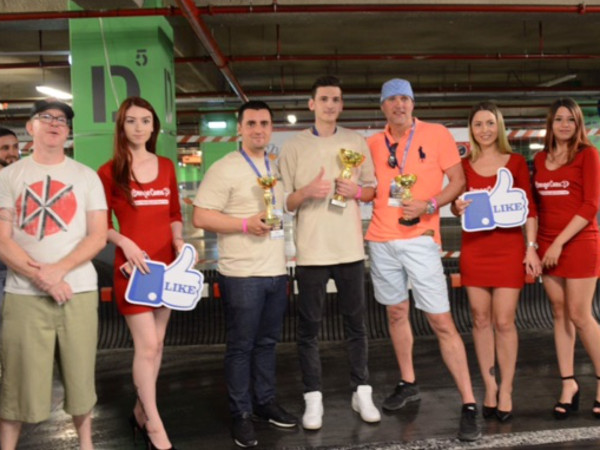 MAMAIA, Romania – Women struck a blow for gender equality — at least in kart racing — June 6 during the YNOT Grand Prix's Romanian debut. The official opening event for AWSummit fielded an equal number of female and male drivers — a first for the adult industry's championship kart-racing series.
"This race was smaller than the others, but a great opening event nonetheless," said YNOT Group LLC co-owner and YNOT Grand Prix promoter Jay Kopita. He attributed the lower-than-usual turnout to an opening day filled with a bevy of simultaneous events.
AWSummit attracts a large contingent from the webcam segment of the industry; consequently, the YNOT Grand Prix did, too. Several of the drivers were camgirls, and many drivers had never raced before.
"There were lots of accidents and pileups but no damage to the karts and no injuries, thankfully," Kopita said, adding that the track was short, allowing even inexperienced racers a shot at kart-racing stardom.
"The track [employees] did a great job with our group," he added. "AWSummit personnel, who coordinated everything, did a magnificent job."
Qualifying time to make the finals was under 12 seconds. Six racers qualified for the death match: five Europeans and Kopita (who did his best not to sound smug when announcing the qualifiers).
"This was my first finals qualification in the history of the YNOT Grand Prix," he said.
At the final flag, the top lap times went to, in order, Alin from My Secret Studio, Frank from Kiiroo and Razvan from Bsmart Studio. Each received a trophy and points toward the $1,000 cash prize to be awarded after the final race in September. The leaderboard and information about the scoring system are here.
The AWSummit race was the third in YNOT Grand Prix's eighth season, sponsored by JuicyAds, BongaCash, Studio 20, Traffic Mansion and Online IPS. The season closer will take place Sept. 14 during The European Summit's fall show in Prague. To secure a driver's seat, email Kopita or Skype him at LAJconsulting.
More information about the YNOT Grand Prix, including sponsorship opportunities, may be found at YNOTgp.com.