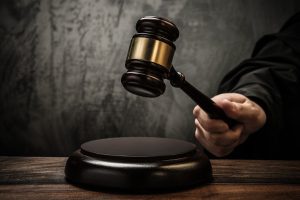 When the Internet Association changed its lobbying course and threw its support behind a controversial piece of legislation ostensibly designed to combat sex trafficking, IA President/CEO Michael Beckerman released a statement explaining the reason for the organization's change in attitude toward the bill.
"Important changes made to SESTA will grant victims the ability to secure the justice they deserve, allow internet platforms to continue their work combating human trafficking, and protect good actors in the ecosystem," Beckerman said.
Now that a lawsuit has been filed naming IA member Facebook as an entity which has "knowingly aided and assisted sex traffickers," I can't help but wonder whether Beckerman regrets his organization's change of heart. Alternatively, maybe he no longer considers Facebook one of the "good actors in the ecosystem" – or never considered them to be such in the first place?
I also wonder if Facebook COO Sherly Sandberg is having any second thoughts about her support of FOSTA, now that her company is facing a lawsuit alleging it has been grossly negligent and has for years "permitted sex traffickers unfiltered access to the most vulnerable members of our society."
In their understandable zeal to combat human trafficking, our elected representatives in Washington decided what was needed was to make it clear that Section 230 of the Communications Decency Act "was never intended to provide legal protection to websites that unlawfully promote and facilitate prostitution and websites that facilitate traffickers in advertising the sale of unlawful sex acts with sex trafficking victims."
When critics of the bills complained that SESTA/FOSTA were written too broadly or simply weren't necessary, because it's already clear Section 230 doesn't immunize website operators against knowing and willful criminal acts of their own, supporters of the legislation said these concerns were overblown.
Thus far, in at least one case challenging the constitutionality of FOSTA, the court seems to agree those concerns are misplaced. Still, I wonder if U.S District Court Judge Richard J. Leon thinks it's silly to argue that any of the plaintiffs in the case he recently dismissed would or could ever be prosecuted under FOSTA, does he also think it's ludicrous to argue that Facebook could be targeted in a civil suit like the one it currently faces?
Facebook may well be able to persuade a court to toss out the claims pending against it in Doe v. Facebook. But without the presumed protection of Section 230 in place to shield them, how many more social media platforms, messaging apps, search engines and any other manner of telecommunications technology which CAN be used by sex traffickers face claims of vicarious liability in similar civil actions, going forward?
I'm not too worried about Facebook here; the company has the resources to beat back lawsuits by the bushel without the cost of doing so crippling them. But can the same thing be said of smaller companies, sites and platforms which offer similar services and abilities to their users?
Contrary to what a lot of people seem to believe, Section 230 never indemnified websites against prosecution for directly violating the law. That the criminal charges currently pending against Backpage's owners and officers were entered before FOSTA was signed into law underlines that fact.
On the civil liability side of the coin, Section 230 didn't (and even outside the realm of human trafficking, still doesn't) absolutely protect sites from their own liability-incurring behavior, either. A blogger can't directly post defamatory claims on his or her own blog and then expect to be shielded by Section 230, just because they published their claims on a website, for example.
That said, one of the reasons why so many people who rely on the protections of Section 230 were opposed to SESTA/FOSTA was the deterrent effect of the safe harbor. So long as civil litigators around the country knew there was a serious barrier in place to making specious claims against websites in connection with the misdeeds of their users (as opposed to misdeeds by the website's operators themselves), a lawsuit like Doe v. Facebook was substantially less likely to be filed in the first place.
As one attorney put it to me in a recent off-the-record conversation, the complaint filed in Texas is the sort of suit Section 230 used to prevent, which was a good thing because it meant platforms like Facebook "did not have to defend claims with tenuous liability theories."
Even if Facebook manages to get the claims against it tossed out in the current case, my sense is it won't be the only or last of its kind filed against the social media giant. And if Facebook settles or is eventually found liable in the case (which I greatly doubt it will), similar cases will be filed by virtually every potential plaintiff who can find an attorney who thinks their claim has potential merit.
Facebook's very deep pockets make it an appealing target, especially when that target is no longer able to use Section 230 as its first – and best – line of defense.
I don't know what, if anything, FOSTA will accomplish in terms of combating human trafficking or sex trafficking. But I don't doubt for one moment that it could prove to be a big boon for trial lawyers.