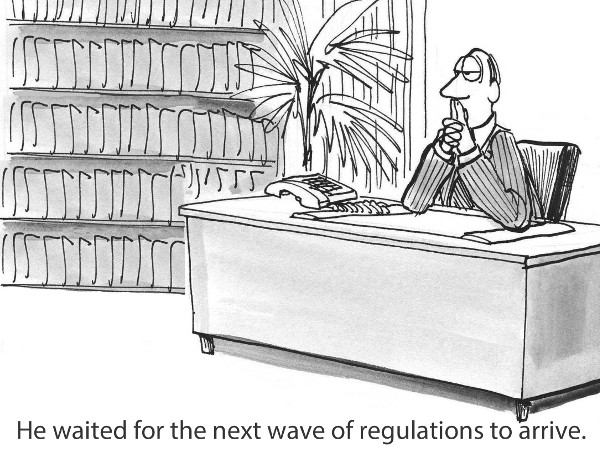 WASHINGTON – Good news, America: Congress is about to take decisive action to stop all those federal workers from watching porn on the clock — you know, the massive problem that affects the productivity of significantly less than 1% of the federal workforce examined under a recent FOIA request?
The other good news, of course, is to the extent the "Eliminating Pornography from Agencies Act" (EPAA) can be viewed as establishing a "new federal regulation," those proposing it will now need to identify two other regulations to eliminate, pursuant to the "Presidential Executive Order on Reducing Regulation and Controlling Regulatory Costs" signed Jan. 30 by President Trump.
I knew the minute the President signed his "two-for-one" order on federal regulations, we would soon be blessed with the fun of identifying existing regulations to hunt down and kill without mercy. This a truly exciting proposition, in part because political correctness is so rampant these days, you can't hunt down and mercilessly kill anything without offending someone.
Since Mr. Trump and his party are always keen to reduce the burden on small businesses and because, as the President has previously explained, the federal minimum wage is "too high" (well maybe it is, depending on which day you ask him), a good target for repeal in this context might be the Fair Labor Standards Act, a pernicious bit of worker-coddling Nanny State legislation if ever there was one.
I've always believed it thoroughly unconstitutional to tell me how much I'm required to pay my preteen nephew to work overtime in my underground pesticide-manufacturing plant anyway, so let's use the EPAA as an opportunity get rid of the job-killing, freedom-undermining, American-greatness-inhibitor that is the FLSA.
Just think of how many more jobs we can create if we don't have to pay people some arbitrary minimum wage or concern ourselves with how old those people are! Besides, the term "minimum wage" is completely inaccurate to begin with. To wit, anybody who thinks it isn't possible to pay someone less than $7.25 per hour has never met the desperate Hondurans who do my yard work.
While we're on the subject of desperate Hondurans, another benefit of getting rid of the FLSA is, before you know it, all those "bad hombres" we're currently paying to pick our lettuce will be replaced by younger, whiter, English-speaking laborers. Ideally, these young workers can be sourced from juvenile detention centers around the country, enabling them to learn the many merits of working extremely hard for almost no remuneration whatsoever. Among other benefits, this experience will prepare them for what is most likely to be their next big step in life: an adult penitentiary.
The other regulation I think we should dump to make room for the new EPAA — and I know the adult industry will be behind me on this one — is the tired old regulatory nag known as the Occupational Health and Safety Act (OSH).
I'm sure the sticklers out there will point out OSH is, in fact, an enormous set of different regulations, not a single regulation of the sort envisioned by the relevant executive order. But in the interest of reducing the size of government, holding down compliance costs for businesses and permanently shutting up Michael Weinstein about condoms in porn, I think we can all agree to overlook this one small detail.
Besides, other than enabling unappreciative "workers" to sue their generous employers for permitting their cherished charges to work around flying metal sparks without having to wear freedom-limiting safety goggles, what has the OSH ever done for us?
Hell, we can't even use the proper acronym for the Occupational Health and Safety Act, because they decided to call the agency responsible for enforcing it "OSHA." If we get rid of OSH, then we can dispense with OSHA too, thereby freeing the acronym for new and better use, like representing the Oregon Society of Hat Aficionados, or even just to serve as the name of some dumb river in Russia.
The more I think about it, the more I like this federal worker porn ban. True, it's probably not going to prevent anyone who is determined to do so from watching porn in the workplace (mostly because things like smartphones exist), but the more symbolic federal measures like this we can come up with, the more existing federal regulations and agencies we can get rid of, until we've finally got the federal government down to an appropriate size.
So, along those lines, I have a question: If we ban porn in three branches of the armed forces (clearly, there's just no way the Marines are going to give up their newfound love for revenge porn), can we get rid of both houses of Congress and the entire executive branch?
Just putting it out there.