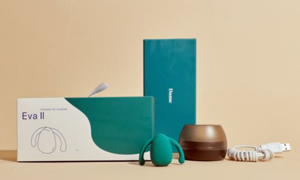 PHOENIX, AZ – Entrenue is officially shipping EVA II by Dame Products, the young company that made crowdfunding history and turned the industry on its ear with the original EVA hands-free mini vibe. Designed to nestle comfortably and securely between the user's outer labia, the original EVA garnered more than 1,000% of its crowdfund goal, and now the unique vibe has been upgraded – using feedback from actual users – to deliver an elevated experience with EVA II.
EVA II's elevated design is 15 percent smaller than its predecessor and now waterproof, allowing users to enjoy it anywhere. Its charging system has been updated with a travel-friendly magnetic charging pod that also serves as a carrying case, and users will love the new button placement that puts them in total control of deeper, stronger vibrations. And because no makeover is complete without a new "look," EVA II comes in two exciting new colors – Fir Green and Quartz Pink – and eye-catching new packaging.
"Our customers loved the original EVA, and Dame Products founders Alex and Janet did a terrific job collecting and applying feedback to create EVA II," Entrenue CEOwner Joe Casella said. "Entrenue was the first to approach Dame back in 2015 and they have always been a perfect fit in our unique catalog, and EVA II is no exception. The overwhelmingly successful crowdfund campaign – plus the mainstream press it garnered – has put Dame and the EVA name on the minds of a new generation of sex toy shopper, and we anticipate EVA II will move quite fast."
Made of medical-grade silicone, EVA II is USB rechargeable and waterproof for easy clean-up. Users can click through its three speeds using one big button, making EVA II functional as well as innovative. Dame Products founders hope to close what they deem the "Pleasure Gap" by giving women easy and unobtrusive tools that help orgasms come easier, especially in sexual positions in which even a handheld sex toy might not cut it.
New eye-catching display options are available with minimum purchase, including Dame Products' signature beaver display, an eye-catching 5-inch-tall figurine that cleverly holds EVA and EVA II in its paws.
To place an order, please call (800) 368-7268, email info@entrenue.com or visit Entrenue.com
Entrenue is a passionate boutique distributor that supports retail businesses by offering the most unique, innovative and high-quality product lines available anywhere. Their intimate collection of products educate, arouse, inspire and stimulate the senses. Entrenue's belief is that these products improve relationships and help men, women and couples truly enjoy a more passionate life. Entrenue provides the information and tools necessary to assist their customers attain their goals and offer the highest level of customer service available on the market.