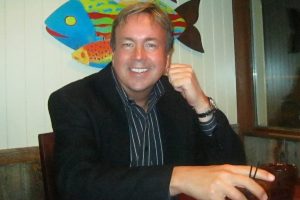 In the early history of any major commercial industry or market sector, assuming that history is recounted honestly, you will find stories of opportunists and manipulators who took advantage of the conditions common to emerging markets. In short, where regulation is sparse and money is fast, those in the position to take advantage of their peers, employees and partners far too often do so.
Thankfully, those same emerging market conditions produce a different kind of opportunist, the kind who sees the unfair game being played by others, puts a foot down firmly and says: "This is all wrong – and I'm going to do it right."
Among the early pioneers of the adult webcam space, Dan Hogue (now the Director of Operations for both the PornStarPlatinum and TransErotica brands) was one such entrepreneur. Determined to be a part of the solution rather than exacerbate the problem, Hogue looked around what one might describe as the adult cam market's larval stage and quickly diagnosed a big, glaring problem.
"Back around 1998-99 there were only a few cam network options for amateurs when we got our start," Hogue told YNOT. "And those networks, in my opinion, did not treat the producers fairly. Most would siphon the traffic for their member joins and or send them to affiliate links giving nothing back to the performers."
Rather than wallow in anger or throw his hands in the air and accept the adult webcam market's status quo, Hogue endeavored to build a cam network which would break the pattern of mistreatment and unfair dealing he'd witnessed.
"We set out to develop a network that was built for amateurs and porn stars, by amateurs and porn stars, with a focus on giving back to the performers generating the traffic and interest," Hogue explained. "Hence, CamZ/AmateurCamZ was created. It was the first that paid the performers for being in the network and 50% from private cam shows."
While he was focused on the present and addressing issues facing the market, Hogue didn't lose sight of the future. He knew CamZ and the broader industry of which it was a part would flourish and grow, but he also had the foresight to see the growth would only reach its potential if its enabling technologies advanced and evolved, as well.
"I changed the entire focus from expanding content development and amateur networks into developing and improving the emerging cam technologies," Hogue said, noting that keeping up with changes in technology is among the biggest obstacles faced by cam networks.
"We were the first to use flash and it was the shit," Hogue said – adding with a laugh that "later we were running to get away from it."
Naturally, the challenges of keeping the network current went well beyond shifting streaming formats and video codecs.
"Maintaining a platform that was both stable and flexible enough to adapt to emerging technologies and integrating toys, fraud defenses, chat advances, phone to phone cam to cam," Hogue ticked off a list of factors from memory. "Remember, this was early in the cam days, when this stuff was all new."
Like many others who built successful cam networks, Hogue intuitively understood there was an audience of adult entertainment fans who would gravitate to the interactive nature of cams, a far more intimate and personal form of adult entertainment than prerecorded porn videos or photoshoots. He also anticipated nuances within that manner of preference, seeing clearly the issue of "accessibility to specific desires for some people that may be in an area where they're not able to get the type of satisfaction they desire."
"For instance, I had a 'whale' client who was a rural area doctor," Hogue said. "He was not able to go to strip clubs because of his stature in the community, so he turned to live cams to fulfill that desire to have the attention of a beautiful women – doing what he wanted while maintaining anonymity."
Naturally, another facet of emerging markets is the component of opportunities missed. And for all his success and foresight, Hogue notes that he's not without his regrets on that front, as well. Asked whether he recalled any opportunities missed or changes he make if he could do it all over again, Hogue zeroed in on a big one.
"Yes – I would have bought the domain Cams.com from Lensmen when he offered it to me," Hogue said, laughing.
"Outside of that I would have done a better job of maintaining a grasp on the tech side of things and insuring that the framework was sound enough," Hogue continued, humbly adding: "This was my failure as an owner."
Over the years, Hogue has never stopped looking forward, or thinking about what's to come for the adult webcam space. At the same time, he's hesitant to embrace certain assumptions which are commonly heard among people predicting the future of adult entertainment.
For example, when asked whether he saw an increasing role for virtual reality in the context of cams, Hogue offered an appropriately nuanced response.
"Certainly, as computers become more and more advanced, we will always see people trying new things," Hogue said. "I think the potential is there for VR, however in the cam space I do not really see a benefit on a one on one basis.
"There are many other items that would be more interesting to the clients and performers than VR," Hogue said, adding with a grin, "at least until it can connect to the rest of our bodies like the 'Ready Player One' movie."
Hogue also said in the current adult cam market, he sees "a leveling out of the cam space and more and more personal touches being added to separate performers and networks."
"For instance, what Chaturbate has done I think is amazing," he added. "The gadgets they offer the performers and the 'open source' ability to develop interesting games and ideas to lure clients into their space is very cool."
If there's a recurring theme where Hogue is concerned, his observations above embody it. He's quick to offer praise when he believes it's warranted, solutions-oriented when problems arise and not one to toot his own horn.
This leaves it to the rest of us to toot the horn for him – because when the history of the adult cam space is written, Hogue certainly deserves a chapter.