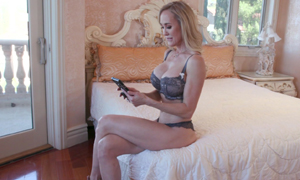 It's not easy to trick top MILF Brandi Love, but it can be done. And if that little bit of trickery can get your cock inside her legendary pussy, could it really be all wrong?
In Trickery: Indecent Proposals (BANG!), Brandi may be the victim of a little underhanded play, but when you see the joy on her face as she is slammed by a huge cock, you see just how forgiving she can be. The blonde beauty sucks, fucks and gives all the twists and turns you expect from this professional of dickery.
"You might say I was tricked in this scene, but was I really?" Brandi asks. "If you watch closely – or pay any attention whatsoever you'll see that things really came up the way this Brandi loves!"
Also look for Brandi in Girls Kissing Girls 23, new from Sweetheart Video. Brandi is a Sweetheart contract professional and got the lead – and shared cover with India Summer – for this new feature.
Brandi plays Karen, a famous writer whose Girls Kissing Girls gossip blog is among the most popular in NYC. They are currently eager to hear the latest on what's up between the governor's daughter (Alex De La Flor) and her teacher (Reagan Foxx), and to get the dirt on the secret love affair between Miss J (Veronica Kirei) and her assistant (Samantha Hayes) during a charity ball at The Ritz.
WATCH BRANDI:
Trickery: Indecent Proposals
Girls Kissing Girls 23