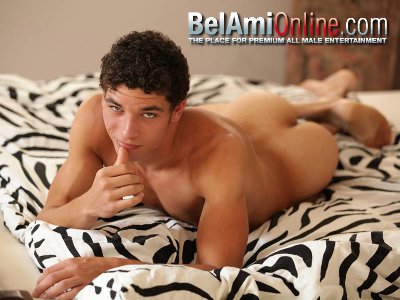 YNOT – George Duroy's BelAmi traditionally has specialized in European man-on-man action. In mid-2011, Prague-based BelAmi began broadening its search for new talent. After co-producing a number of scenes and a couple of features with New York-based gay studio CockyBoys — engineered by both studios' longtime publicist Davyd Dixon — Duroy and company discovered their fans were extremely attracted to American models.
Thus began a devoted search for American males who could hold their own with BelAmi's beautiful, adventurous European boys. To date, Duroy has discovered five, including exclusives Mick Lovell and Brady Jensen. The fifth, Austin Merrick, was introduced Wednesday in an interview at BelAmiOnline.com. He will debut in his first solo scene on Friday. His first hardcore scene, partnered with fellow newcomer Kevin Warhol, will premier on the site on Saturday.
Merrick, a 21-year-old native of San Diego, Calif., was completely new to the gay adult entertainment world when Duroy cast him in one of BelAmi's notorious international orgies filmed in Budapest and Cape Town, South Africa. According to Duroy, Merrick "had such a spark and left such an impression" that Duroy could not imagine not filming the young man again.
"Austin is not your typical BelAmi model, nor is he your typical porn star," the producer-director said. "In the interview you get a good glimpse into his charming and unique personality. Watch him break-dance, bust out a free-style rap and describe the gifts he got from God that help him be such a great model."
Merrick's interview (NSFW) is here.
BelAmiOnline's affiliate program, BelAmiCash, pays a 50-percent recurring revenue share on membership sales, 30 percent on video-on-demand sales and 20 percent on DVD sales.