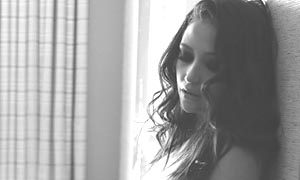 VENICE, CA – It's an understatement to say that Avi Love's au natural fuzzy muff has helped her catapult to fame and two new scenes showcase just that special spot on the young beauty.
She stars in Rub That Hairy Muff, the new DVD from ATKingdom. This is a solo scene that features Avi taking a purple and white vibrating wand to her beautiful love hole with spectacular results. She is definitely one of the hottest stars on the planet when it comes to performing solo.
She also stars in a new scene posted by StripLV titled "Womanizer in theBush." Another solo spectacle, in this one Avi takes viewers on a tour of her puss with a vibrator and pleases herself as much as those who take the opportunity to see her go in this 10-minute clip. Her explosive orgasm that closes out the video is proof of that.
"I think it's great that so many people love seeing my hairy bush because I sure like donning it," she said. "I think a natural bush is very beautiful and it makes me feel like a real woman. And solo scenes are a great opportunity for me to share my sexuality just like I do when I'm alone. I love to masturbate and all the better if I know others will be doing the same as they watch it."
Other hot new scenes starring Avi include Interracial Cum Swapping from Third Degree Films, Straight A Students (Zero Tolerance, DP Me 7 from Hard X, featuringher getting her front and back doors slammed shut by Mick Blue and John Strong. She also recently did a double anal for Legal Porno called "DAP Destination" where she took the took the long dongs ofNeeo, Thomas Lee and Angelo.
MORE AVI:
"Womanizer in theBush" https://striplvclips.com/collections/avi-love/products/avi-love-womanizer-in-the-bush
Rub That Hairy Muff: https://www.adultdvdempire.com/2508178/rub-that-hairy-muff-porn-movies.html?partner_ID=46386249
Interracial Cum Swappinghttps://www.adultdvdempire.com/2501041/interracial-cum-swapping-porn-movies.html?partner_ID=46386249
Straight A Students: https://www.adultdvdempire.com/2497575/straight-a-students-porn-movies.html?partner_ID=46386249
DP Me 7: https://www.adultdvdempire.com/1991108/dp-me-vol-7-porn-movies.html?partner_ID=46386249
"DAP Destination": https://www.legalporno.com/watch/33761/dap_destination_with_avi_love_balls_deep_anal_dap_braking_gapes_swallow_gio671?track=281.2.19.0
Read her AVN Fresh Faces interview at https://avn.com/business/articles/video/fresh-faces-avi-love-756633.html. Also check out her interview with ADT's Captain Jack at https://interviews.adultdvdtalk.com/avi-love/.
SOCIAL: Twitter: @avilovexxx; IG: ms.avilovexxx
BOOKING:Nexxxt Level Talent: https://nexxxtleveltalentagency.com/model/avi-love/
PRESS/MEDIA CONTACT: Rising Star PR, info@risingstarpr.com, @RisingStarPR
For everything Avi Love go to http://risingstarpr.com/clients/avi-love/.