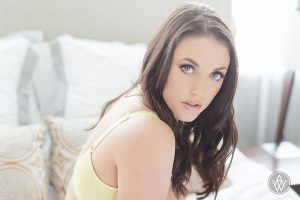 I AM ANGELA is a pretty impressive film. It stars one of the most lauded performers in adult industry history, Angela White.
Released in October of this year, this "XXX documentary"-form film features four noteworthy scenes: White with Mick Blue, Markus Dupree and Steve Holmes; White with Joanna Angel and Dana Vespoli; White with Chanel Santini; and White with Rocco Siffredi. Each scene is guided by its own noteworthy director, while the entire project was overseen by Evil Chris.
From beginning to end, I AM ANGELA is packed with exclamatory moments – performance firsts (!!), sexual intensity, things that the most discerning porn aficionado would appreciate, things that a bro into big tits and dirty talk would appreciate… Even things that feminist-minded critics would appreciate (if they could just let themselves).
As a standalone piece of media, I AM ANGELA is excellent — a testament to the brilliance of White herself, as well as to each of the leaders, innovators and creators involved in the project. Though adult content takes (and needs) all kinds, with work of all calibers contributing to the overall conversation, I AM ANGELA exemplifies porn at the very top of its game. Like the box copy says, "I AM ANGELA is a vivid, honest and humanizing portrait of a woman whose personal and sexual journey challenges assumptions about the adult industry and the performers within it." This is not an inaccurate statement.
We sat down with White, prepared with a series of questions developed specifically to dig deeper into her thinking and process as an artist and performer, as well as to explore the significance of I AM ANGELA within the context of the wider social world.
YNOT: Why are you excited about I AM ANGELA?
Angela White: I AM ANGELA is not your typical adult showcase. This docu-porn hybrid weaves together revealing interviews, engaging documentary footage, candid behind the scenes clips and hardcore sex scenes to present a compelling and unique portrait of me as a performer and, more importantly, a person. I think this approach to adult filmmaking is innovative and important. I AM ANGELA is an intimate and honest look at my career, my passion and my life. It presents me as multifaceted and multidimensional, as a daughter, a student and a business owner. While the focus is on me as a sexual being, it never reduces me to my sexuality. If I had to sum up the project in one word I would say it is humanizing.
Why should the rest of the industry be excited about the film?
All of the performers and directors involved in I AM ANGELA are interviewed in the documentary footage, which helps to humanize an industry that is often demonized and misunderstood. It gives fans a chance to meet the real people behind the porn they watch. This documentary reveals the process of adult film production and what occurs before and after a sex scene.
And the general public – what might be especially noteworthy for fans and viewers?
Consumers have been equally excited about the sex scenes themselves, which include my first trans scene with Chanel Santini and my first sexual encounter with the legendary Rocco Siffredi — who flew across the globe for this one scene!
All four sex scenes are directed by noteworthy directors with a long history with Evil Angel: Jonni Darkko, Dana Vespoli, trans porn pioneer Joey Silvera and Buttman himself, John Stagliano. It's exciting to have so many iconic names involved in a single project, with each director bringing their signature style to their respective scenes. The style of sex is diverse, ranging from tender intimacy through to extreme rough sex. It showcases the scope of who I am as a performer and my desire to explore the depth and breadth of my sexuality.
I have received a lot of positive feedback from fans who had never witnessed the intimacy, bond and love performers have for one another on set and the care taken to negotiate sexual boundaries and consent.
I AM ANGELA | First TS Scene | Anal with Rocco Siffredi | Double and Triple Penetration | Out Now on VOD https://t.co/OAbyFBTm6X pic.twitter.com/s0vzEZHGMO

— ANGELA WHITE (@ANGELAWHITE) October 6, 2018
More and more, we are seeing high-profile cis women performers working with high-profile trans women performers. This was not the norm even a few years ago. With respect to gender inclusivity, how is porn once again reflecting changes occurring in wider culture? How is porn leading wider culture?
Trans visibility within mainstream media has increased significantly over the past few years. The world witnessed Caitlyn Jenner's transition, Laverne Cox landed the cover of Time Magazine and Daniela Vega became the first trans person to present an Academy Award. These moments and other milestones, along with some unfortunate political and legal setbacks in the fight for LGBTQIA+ rights, have helped to bring awareness to trans issues and to amplify trans voices.
I can only hazard a guess that more acceptance of the trans community in our broader culture will be reflected in more acceptance of trans porn in the consumer base. But the reality is that trans porn has been popular among consumers for a very long time, well before mainstream media started turning their attention to the trans community. Despite the popularity of the genre, shooting trans porn has been taboo even within the industry, but that is changing fast. With prominent performers like Adriana Chechik, jessica drake, Joanna Angel and Sean Michaels shooting trans scenes and with mainstream porn companies such as Mindgeek and Gamma launching trans websites, trans porn is more high-profile and more celebrated than ever.
When director Evil Chris approached me about I AM ANGELA I knew this would be the perfect project to showcase my first trans scene. Evil Angel has been at the forefront of mainstream trans content for decades, and I knew that Joey Silvera would do the scene justice. I'm so grateful to Chanel Santini for being part of this special project with me. She is a beautiful and intelligent woman and the sex that we shared was absolutely unforgettable.
Today's world is very interested in authenticity, and some say that even the most authentic "documentary" footage still has an element of performance to it, thus somehow rendering it less authentic. How do you feel about authenticity as it relates to I AM ANGELA?
I agree that there is an element of performance when cameras are rolling, but I don't believe that performance is necessarily inauthentic. Performance and authenticity are not mutually exclusive. We curate our speech and our body language depending on our environment and our audience. We act in accordance with a situation, presenting a different side of ourselves to our parents, our friends and strangers. There is performance in every interpersonal interaction, but that doesn't make it inauthentic. It may just highlight a particular facet of who we are. Even when we relay a story or a memory we don't relay every detail. We talk about the most exciting things, the most spectacular events, the funniest and most unique happenings. But leaving out what we consider to be boring or irrelevant details does not make a story untrue.
I don't feel any need to reconcile authenticity and performance when my performances are authentic. I chose to enter the adult industry because I saw it as a space where I could express and explore my sexuality in a safe environment with like-minded, sex-positive peers. I chose to use my real name rather than adopt a stage name because I wanted to live without shame and to live my truth in my work. I've always been committed to creating scenes that are an honest and authentic reflection of my sexuality and desires. In I AM ANGELA, not only do viewers accompany me on another sexual journey, they also learn more about me than ever before.
A documentary film is the result of capturing real time chaos and the attempt to make sense of it. The very process of producing a documentary requires a director to make decisions about what is relevant and what is inconsequential to their subject matter. My answers during interviews are dependent upon the questions that the interviewer considers important enough to ask, and those answers are refined during the editing process. Footage ends up on the cutting room floor if it disrupts the flow of the film. But none of this makes a documentary inauthentic. Any art that attempts to reflect the world around us can only ever be an interpretation of reality. I feel that I AM ANGELA has been successful and honest in interpreting mine.
Find Angela White on Twitter at @ANGELAWHITE.