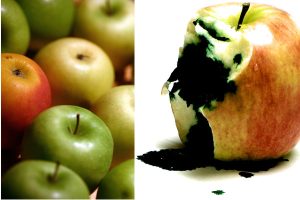 SAN BRUNO, Calif. – If you've ever worked for an adult affiliate program, chances are you're acutely aware of the problems individual affiliates can cause, often without meaning to do so.
Whether it's spamming the known universe with hardcore images which link to your sites, or blatantly violating the terms of use of some massive mainstream platform, all it takes is willpower and an internet connection for an affiliate to give the programs and sites they promote a serious case of cyber-heartburn.
Outside of the adult industry, even among media outlets which seem like they should have a firm grasp on how affiliate-driven advertising works, the role of affiliates in marketing adult sites and products isn't just poorly understood, it often seems to be entirely unknown.
I think lack of understanding explains why, in various reports of the same "ads for hardcore porn" which (apparently) had been running on some popular YouTube videos, the reporting outlets have identified different two different cam networks being promoted in those ads, without contemplating the possibility those cam networks (and YouTube itself) has no idea the term-of-use-breaking advertising is taking place.
"YouTube is showing PORN ads that send users to smutty webcam sex site," screams The Sun. It's a headline which suggests the author believes YouTube is showing such ads intentionally and knowingly, despite the article including a response from a YouTube spokesperson who notes the advertising account responsible for displaying the ad was shut down as soon as the links were brought to YouTube's attention.
The Sun identifies the site being promoted in the offending ad as BongaCams, and further underlines its grave concerns about exposing people to smut by offering a slightly blurred screencap of the site, which can be enlarged to get a better view of the mildly fuzzy nipples in the mix.
While the Sun didn't link to BongaCams, it did make sure its readers had a properly salacious understanding of what the platform is all about.
"It's a popular porn site feature (sic) live webcam performances by men and women who undress and perform sex acts for money," the article states. "Models earn 'tips' by getting their viewers hot and bothered with racy cam shows. BongaCams is one of the largest 'adult camming' websites in Europe."
Fair enough, Sun – and I'm sure BongaCams thanks you for whatever key-in traffic your faux finger-wagging may produce.
On Motherboard, meanwhile, the tsk-tsk sentiment is similar, but the cam site referenced in connection with the ad is different.
"YouTube Is Serving Ads for Hardcore Porn on Trending Videos," Motherboard reports, sub-headlined with "The YouTube auto-playing ads lead to a site that shows explicit sex."
"When some users go to a video, they see this ad autoplay before the video," reports Jason Koebler – who, to be fair, probably ought to get some credit for not using the word "smutty."
"In the bottom left corner, while the ad plays, there's a thumbnail image of people having sex," Koebler continues. "The link goes to a Camsoda-branded cam model page. The video currently has more than 300,000 plays."
While Koebler traces the "porn problem" occurring across several videos to the "same mysterious source," he doesn't take the next step – which would be to note the account likely belongs to an affiliate who promotes multiple cam networks, as opposed to a misguided marketing campaign run by the cam networks themselves.
As with the Sun's report, Motherboard's post concludes with a statement from YouTube clarifying – as though doing so were necessary – that YouTube doesn't condone or permit this kind of advertising, but due to the highly-automated nature of its advertising system, can't always prevent them from being displayed.
"We have clear policies against ads featuring graphic adult content," YouTube says in the statement to Motherboard. "When we become aware of an ad that violates our policies, we immediately remove it and take appropriate action, including, and up to, suspending the responsible account."
If that sounds like the same boat adult affiliate programs are in with respect to "rogue" affiliates, it's because it is the same boat.
As I once pointed out to an attorney from the Dept. of Justice while he was deposing me in a civil case, as a practical matter, affiliate programs (and user-generated content sites like YouTube) can't predict, control or prevent the actions of third-parties, most of whom I haven't and will never meet.
Granted, that observation clearly doesn't offer the same sort of clickbait-appeal as "YouTube is slammed for showing auto-play PORN adverts on popular videos with smutty links that send users to webcam sex sites."
Apple Images © J. Henning Buchholz and Mark Cabrera