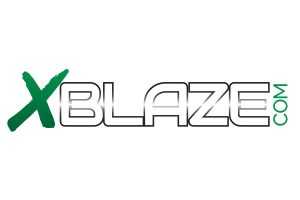 SAN FRANCISCO – Like a small-scale Powerball drawing for porn viewers, newly launched XBLAZE.com offers its users the chance to win cash and other prizes for watching porn.
Billed as "the very first and only adult website that offers its users cash rewards to watch adult movies," the site announced its official launch Wednesday morning.
"It sounds too good to be true, but yes – we are offering our members money to watch adult films on our site," said XBLAZE CEO Jeff Dillon. "We have devised a progressive platform in which we provide free content, as well as paid premium content, which operates on a reward system for every minute spent at xblaze.com."
The cash prizes are won on based on a "sweepstakes" system, in which viewers who log in and watch the site's extensive library of scenes and clips get the chance to win $100 a week, $1,000 a month and $5000 (or a free trip to the AVN Adult Entertainment Expo and Awards Show) once a year.
"We will also host smaller member sweepstakes with more chances to earn cash and are currently working on a rewards system for every level," Dillon said. "We will provide updates to users and notify them of upcoming prize opportunities throughout the year as well."
XBLAZE also plans to introduce a "Star Competition," which enables site members to vote on their favorite adult performer. The performer with the highest percentage of "likes" will win $500, with $300 going to the runner-up, and third place garnering $200.
Current XBLAZE content partners include AdultCentro, ArchAngel, Pervout, Analized, Ballwonder, Bad Daddy POV, HookUp HotShot, Spizoo and Trans500, with more partners to be announced later this year.
XBLAZE is also planning to add a content partners' VOD section for newly uploaded content, prominently featured on the site's home page to increase exposure of its partners' content.
The site will also "produce lifestyle porn content that is popular in today's market and on social, along with cannabis, gaming and health/fitness culture," according to the statement announcing XBLAZE's launch.
"Free porn, free money and prizes, just by coming to XBLAZE and supporting us, the movies, the stars and our company partners," said Dillon. "It's a win-win all around."
XBLAZE also plans to launch two "sister" sites later this year – SexBlazeToys.com, an adult novelties store, and XBlazin.com, a smoke shop/accessories store.
For more information, visit xblaze.com.