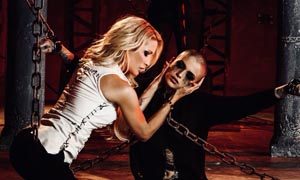 LOS ANGELES, CA – Global adult entertainment innovator Wicked Pictures, in association with contract director Brad Armstrong and Wicked Girl jessica drake, today announced the completion of principal photography on Fallen II, the highly anticipated sequel to the AVN, XRCO, and Empire Award-winning blockbuster Fallen. The new feature will be available in stores and online by September 30, 2018 – the tenth anniversary, to the day, of the original's 2008 release.
The announcement was made by Brad Armstrong, the veteran filmmaker and performer who earned Best Director – Feature, Best Actor, and Best Art Direction AVN Awards for his visionary work on the original. "I'm incredibly happy with Fallen II," he said. "I was really worried about being able to make the sequel as good or better than the original, but I think we did just that. The entire cast was excited to be involved in the project and they all brought their A-game. Even though it was a difficult shoot the vibe on the set was electric and very positive. It's been exactly a decade since the original hit stores and it's been Wicked's biggest selling movie ever since. We're very proud to bring our loyal fans the next chapter in the Fallen saga."
"Although the whole cast was fantastic, there were some real standouts who I'm sure will be recognized come awards season," he continued. "jessica drake was incredible in her return as the Fallen Angel from the original. As unbelievable as it sounds, she looks even better than she did ten years ago. Tommy Pistol is staggering as Pharzuph, the Devil's minion. He is indeed this generation's Randy Spears. Both Misty Stone and Isiah Maxwell took huge leaps out of their comfort zones to play Archangels Gabriel and Azrael, and it really paid off. Last but not least Leigh Raven was absolutely mesmerizing as Max, in her portrayal of a down and out prostitute who turns out to be this millennium's version of the Virgin Mary and mother of the New Savior. They should all be commended for their efforts. Each and every member of the cast made the project that much better."
For her part, jessica drake is only too happy to echo the director's high praise for the Fallen II ensemble. "As always, Brad has delivered his very best, and I can say that everyone involved in the project did the same. Angel was once again written just for me, and portrays exactly who I am at my core and where I am in my life right now. I feel like the darkness in the sequel gives us an edge over the first one, and the acting from Leigh, Tommy, Misty, Brad, and Isiah raises the bar even higher. Playing opposite all of them was an amazing opportunity, and I am so grateful for the talent they brought to the table."
In addition to Armstrong and drake, Jenna Haze and Herschel Savage are among those who reprised their roles from the 2008 Wicked Pictures release. "I am especially honored that Jenna Haze returned in a non-sex role as Denise, my original reason for being a 'fallen' angel in the first movie," drake confided. "In ten years, she has only grown more beautiful, and though she isn't in the industry anymore, she was so natural onscreen. We were also lucky to have Herschel Savage in the role of Hal, and though his time on screen is short, he looks and acts amazing as always." The three-time AVN Best Actress winner was also eager to credit another industry icon who assisted in a non-sex capacity. "Though no one will see her in the final product, I owe a big thank you to Chanel Preston, who was my double as I played two roles in the climactic ending of the movie. Not only did she have her own lines down, she knew mine backwards and forwards. I could not have done it without her. If I am in any way recognized for my acting in this movie, she had a big part in that."
As pleased as she was with the acting, drake was quick to point out that the sequel's commercial scenes were just as intense. "The sex in Fallen II is scorching! Between my reunion scene with Brad's character Keith, my grudge match with Tommy Pistol, the threeway with Isiah Maxwell and Misty Stone, and the epic orgy, I can't choose a favorite. As I watched the other sex scenes being shot that I wasn't in, especially Leigh Raven's four-way, I knew every single one would turn out perfectly."
While Armstrong and drake found the sequel's creation creatively rewarding, the lengthy shoot proved to be a challenging one. "Going back to Fallen has been a bittersweet adventure," the director observed. "On one hand, it's been great revisiting the original characters, and creating new ones to join in on the next chapter of the story. On the other hand, this was, by far, my toughest shoot since Euphoria some eighteen years ago."
"Between a massive heatwave in Los Angeles, our entire crew and most of our cast getting sick, cancellations, location issues, long nights, equipment failures and more, this was by far the hardest movie I've ever done," drake added. "I watched as our amazingly dedicated cast and crew continued to come together and give it their all, and I could not be more proud of what we have accomplished."
Despite the production challenges, jessica drake is supremely confident that her latest collaboration with Brad Armstrong will find success in today's global adult entertainment space. "They say anything good is worth the work, that what doesn't kill you will make you stronger, and Fallen II is now the best movie with the strongest cast I've ever done. I love making movies I can put my heart and soul into. As always, I sincerely thank Steve and everyone at Wicked Pictures for holding tight to our commitment to producing the best in quality adult movies in a time where that takes a concentrated effort. I am so proud to be aligned with such a company, and I cannot wait to share this movie with everyone."
Fallen II will go into distribution by September 30th, 2018, ten years – to the day – of the original's release,  To learn more, please visit www.wicked.comand www.wickedb2b.com.
ABOUT FALLEN (2008)
An award-winning erotic masterpiece comes to life as director Brad Armstrong tells the tale of Angel (jessica drake), a fallen Gregorian Angel who has been banished to earth and stripped of her wings after the accidental death of the young woman she was sent to watch over. Alone and desperate for companionship, she finds it in the city's seedy underworld, far from the idyllic heavens she once knew. Follow Angel on her dark journey through some of the most sinful and perverse places this world has to offer. As she continues her fall into darkness, she discovers a glimmer of light in Keith (Brad Armstrong), a handsome mortal that she is inexplicitly drawn to. As Keith helps guide her back towards the light, a secret from the past comes back to haunt the duo, threatening to tear them apart. Can Angel regain her wings and soar once again? Or has she fallen for the last time, doomed to live out her days trapped in the purgatory she now calls home? Armstrong's stunning visual style, combined with drake's top-notch performance, mind-blowing sex scenes, and a screenplay that delivers until the very last frame, Fallen is an unforgettable film.
For Domestic Sales contact Bonnie Kail at bonnie@wickedpictures.com.
For International Sales assistance, please contact Steven Vlottes mrvlottes@wickedpictures.com.
For Public Relations assistance, and to arrange interviews with the director and cast, please contact Daniel Metcalf at daniel@danielmetcalf.com.