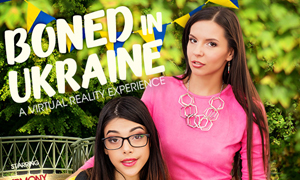 Доброго ранку! You do not understand what we just said, do you? Do not worry, not everyone has to speak every language on the planet but, on the other hand, it is really worth to visit other countries and get new experiences from all over the world – especially these days when it is becoming easier and easier to spend your vacation on having sex with beautiful local ladies. Okay, you are right, it is still not that easy and it takes a lot of effort to pick up a girl with whom you do not even share a common language – thankfully now we have some great VR porn movies that can do all the hard work for us.
In the last one of these virtual reality adult experiences made by VR Bangers – the premium producers that introduced the 6K ultra high definition resolution in the VR porn market as the very first in the world – the makers have decided to visit the old continent and went to the beautiful Ukraine with one of their cutest teen VR porn stars, Harmony Wonder. That is how their latest VR porn fantasy called Boned in Ukraine has come to life – that is an entirely new VR porn video in 6K UHD in which our beautiful Harmony is going to have a taste of a Ukrainian dick.
"Ukraine is not the European country being most often associated with sex or a most popular one from the old continent either, but that does not mean that it has nothing to offer," says Xander Jones, the Producer of Virtual Reality Bangers. "In the latest VR porn fantasy of ours called Bond in Ukraine, Harmony will depart on a trip to Ukraine inside of our virtual reality, while trying to make one of her deepest sexual fantasies come true – it is: fucking one of those 'gifted' guys from Europe. Has she enjoyed the European cock more than dicks of her colleagues from the USA? You will have to wear your VR headset and find that out by yourself!"
The video begins with an introduction of entire situation inside of which every viewer from the family of Virtual Reality Bangers is being told the story behind the scene. It turns out that while wearing your VR headset inside of this movie you are impersonating a Ukrainian host who is today being visited by a young yet beautiful student from the USA – namely the aforementioned Mrs. Wonder. As soon as your girlfriend from this VR porn fantasy leaves the room, Harmony will almost immediately jump straight on your cock to have some fun with it – and you can take advantage of all of that while sitting in your favorite chair with a pair of VR goggles on your head.
If you would like to give this VR porn scene a try and see for yourself how horny Harmony is, you should just go over here to watch this latest VR porn movie – or here to browse through all the virtual reality porn videos that the producers have ever made starting from HD, through 4K UHD and up to 6K ultra high definition.