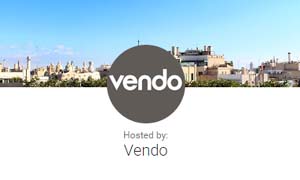 On September 6th and 7th, Vendo will be hosting its 4th annual Vendo Partner Conference at its headquarters in Barcelona.
This exclusive event is hosted for Vendo partners from around the world. Leaders come together to join the most advanced billing company in the industry to discuss leadership and analytics.
Managing Director, Thierry Arondo says, "this event is a unique opportunity for our partners to share with each other what they are learning about leadership and analytics in an intimate setting.  The last three conferences were a big success; and we are working hard to make this one even better!"
The conference is also an excellent networking opportunity for industry leaders.
In addition to onsite sessions and events, Vendo will also host off site events throughout the city of Barcelona.
The event prides itself on intimacy and exclusivity. Creating an environment where the brightest minds in our industry feel comfortable to share, learn and grow.
Andrew of Bang says, "The Vendo Partner Conference is always a highlight of my work-year. I love the intimate nature of the event, and I always come away with a bunch of valuable insights and ideas that have helped our business grow through increasingly competitive times.."
Steven of Grooby says, "The Vendo Partner Conference is my most important gathering of the year. The ideas and information shared at the conference each year, from some of the smartest minds in the adult industry, have directly enabled our company to develop better working practices and investigate previously unexplored software, ideas and resources."
For more information visit the official website: http://conference.vendoservices.com/