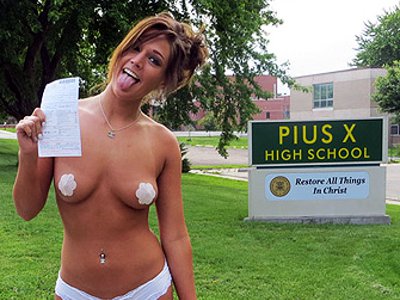 By Peter Berton
LINCOLN, Neb. – Bible Belt porn starlet Val Midwest recently grabbed headlines when she was cited for public nudity and trespassing after staging a late-night outdoor sex show at her alma mater, Pius X High School. Midwest said the resulting photos composed her way of protesting local response to her career choice.

"I used my fingers, my toys and even my crucifix in my pussy!" Midwest posted on her website. "Now when you say all those nasty things about me, you have a good reason."
Born Valerie Dodds on Valentine's Day 1994, the 19-year-old Lincoln native is one of 13 children in a staunchly Catholic family. Despite her upbringing — and the law-enforcement crackdown — she's anything but repentant about her in-your-face sexuality. In fact, the media hoopla surrounding Midwest's arrest has given the performer a career boost.
YNOT: Why did you get into porn, and why the name Val Midwest?
Val Midwest: I have always been the life of the party, and I wanted people to know who I was. I wanted to be able to be even more wild and crazy.
I live in Lincoln, where things are can be very boring. Everyone does the same things and I didn't want to be one of them, so I chose the completely opposite thing: Porn! [She laughs.]
As for why I chose Val Midwest? I wanted to be like my hero, Melissa Midwest. [Ed.: Amateur porn sensation Melissa Midwest also is based in Lincoln. She set a precedent for Val Midwest's protest when she posed nude inside a downtown Lincoln bar and subsequently posted photos on her website, leading to her arrest for public nudity.]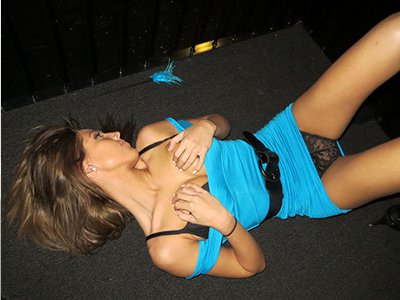 I remember, when I was 18, seeing her site for the first time. She was having so much fun. In one of her videos she was like, "I love getting naked, and I don't give a fuck what anyone thinks about it."
It was then I knew that's what I wanted to do. So I contacted her, and the rest is history.
Why choose your former school for your … uh … "coming out?"
They pissed me off! [She laughs.]
My former school is the main Catholic high school here in my hometown. When they found out I was doing a website, they verbally attacked me and my family. We are talking students, parents and faculty. They said some of the most hurtful things anyone could say to a person.
Then I found out some of them had never even viewed my site, but they still were saying these things. It was at this point I decided if they were going to talk, I would give them something to talk about.
I took my site to a place they all knew and loved. I hoped it would make them so they had to look, so they had to see it. It was my way of getting back at them for being so mean to me, and it worked.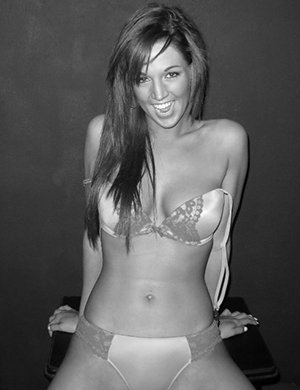 Has the buzz from the arrest helped or hurt your career?
It's only helped. I have been doing so many interviews, I can't even keep up.
I have offers to do shoots from some of the biggest companies around. I am doing stuff for Hustler, Girls Gone Wild, Kink.com and on and on. I am so excited for what the future holds.
Now that you have the benefit of all this media chatter, what are your plans, career-wise?
I am just going to keep shooting everything I can. I understand this is an amazing opportunity, and I don't want to take any of it for granted.
If someone wants to work with me, then let's do it. I will sleep when I am older!