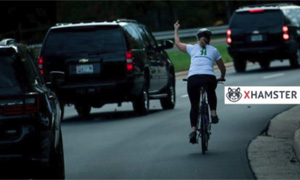 Cyberspace – Juli Briskman was fired from her job at Akima, a federal contractor, after she flipped off Donald Trump's motorcade.
Briskman had been working as a marketing and communications expert when she alerted HR about the internet buzz, and was fired the next day for failure to comply with policy. 
Given her set of skills, xHamster has made an offer to Juli Briskman to become a Marketer at xHamster.
​"We like employees who do things out of the norm," said Alex Hawkins, VP of xHamster. "We decided to make Juli an offer because flipping off Trump takes guts. To get fired from a job to flip off The President of the United States, takes guts. And we do like guts, they fit in well at xHamster."
xHamster awaits Juli's response, but would accept a "Middle Finger" picture as a "yes" for the job acceptance