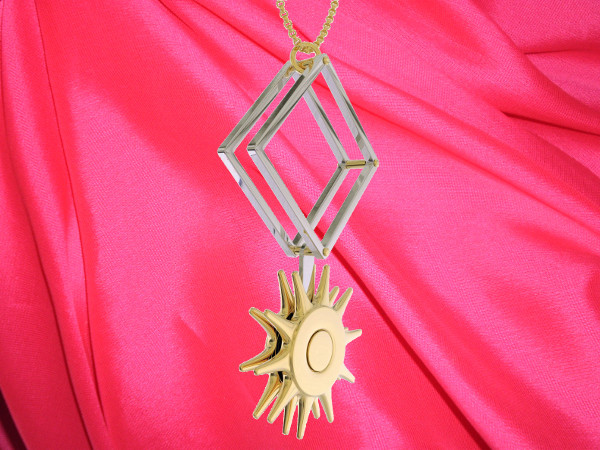 PHOENIX – Unbound, a new line of intimate jewelry born of what the creators call "intelligent design," has debuted, and Entrenue is the only distributor representing the collection.
"This beautiful, sex-positive series features a modern aesthetic, accessible price points and styles that serve dual purposes: adding style to any ensemble while incorporating a clever enhancement for whenever an intimate moment strikes," said Entrenue President Joe Casella.
The pieces in the Unbound collection transition easily from bedroom accessories to style statements that celebrate the wearer's sexuality without stigma or shame. Designs include a necklace that unfolds into a pinwheel, a bracelet that unfolds into handcuffs, a pendant hollowed out to hold lubricant, a necklace that folds into a whip and earrings that are nipple clamps in disguise.
Shoppers may choose from three collections, each named after one of history's most powerful, fearless and impactful women: Amelia Earhart, Twiggy and Cleopatra. The aesthetic of each collection reflects the spirit of the woman for whom it is named, giving each line its own unique, fashion-forward feel that makes a strong statement.
"Unbound has gone above and beyond to create sexy, stylish and affordable pieces that truly serve a dual purpose, and we are honored to be its exclusive distributor," Casella said. "The broad appeal and budget-friendly price points make Unbound a smart choice for retailers looking for unique crossover items that can be merchandised in almost any section of a store.
"The designs are so clever, shoppers might not ever guess that the beautiful necklaces or earrings they're checking out are actually incognito sex toys," he added. "It's a naughty secret disguised as a stylish fashion statement."
Unbound pieces are available with gold and silver plating as well as in bright, playful colors. All items are priced below $100 with most retailing for less than $75.
For more information or to place an order, call (800) 368-7268 or email info@entrenue.com.