From the local level to the international, the need to communicate has always been supported by multiple ways to stay connected. Connectivity has been a main driving force for the growth of all global industries. Fast, reliable, convenient and simple — these are the considerations in finding which mode of communication is to be used.
Calls are frustrating and often lengthy, and recordings are time consuming. Instant messaging uses apps, logins, requires internet or data coverage and a connected device, which isn't as convenient or cheap. Emails are slow, dated and less convenient.
This leaves text messaging — easy to access from any device, not app dependent, has no data requirements and no logins. Texting is fast, reliable, convenient and simple.
It's hard to ignore the advantages of text messaging as a mode of communication, especially in business.
High Open Rate
Text messages are more likely to have a higher open rate than emails.
Studies show that email has 15-22 percent of getting read for the reason that emails can be mistakenly detected as spam before anyone ever sees it. On the other hand, text messaging has a remarkable open rate of 98% – most people always look at their phones when they feel a buzz on their pockets. Text messages are also being read within 15 minutes upon receiving them.
Immediate Deliverability
It takes an average of 90 seconds for a mobile phone user to respond to a text message and an average of 90 minutes to answer an email. Since not everyone has the convenience of time on their side, text messaging is the best option.
Convenient Availability
Phones are a basic personal necessity, and SMS capability is a normal feature for all phones. No fancy applications or expensive data plans necessary. Send a text, get a text. Using the most simple of GSM networks, text messaging is almost always available.
Multiple Applicability
Texting has far wider range when it comes to opportunities for the circulation of information. From one-on-one communication to bulk messaging, SMS is king.
There is a wide range of potential uses for text messaging, announcements, advertising, support, social networking and more.
For 2017, statistics show that there are 4.77 billion mobile phone users around the world. It's expected to pass five billion by 2019. That's 4.77 billion potential customers and clients. It would be irresponsible for any business to overlook the potential of text messaging.
Here are some texts messaging statistics you can't ignore: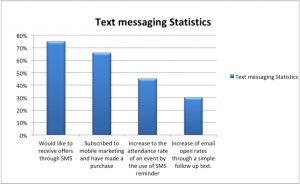 Text messaging offers a reliable way to reach your target market, maintain your clientele and grow your business. There are many service providers out there that can offer SMS solutions for any planned business application. The trick is to find the right system and the most capable provider that works for you!
—
If you're in the mobile sector of the adult industry, you've likely heard of Joey Gabra. His list of credentials includes previous employment as managing director for Affil4You, and marketing manager for Twistbox Entertainment and American Mobile Ventures. Gabra has built strong business relationships by delivering what he promises, which often comes at his own expense. Combining humor with sharp business acumen has made him respected by both peers and competitors, leading to numerous industry awards. In 2015 and 2016, he was named Businessman of the Year by the YNOT Awards. These days, he's applying his expertise and expanding his reach as solutions director for New Media Services. He may be reached at jg@newmediaservices.com.au.