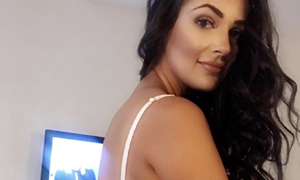 Sofi Ryan fans who have missed her dick-devouring scenes in recent months can rejoice as the brunette stunner is officially back to doing boy/girl scenes.
This marks the next phase of a transition for the busty superstar who recently left her agency and began self-booking. While those initial bookings did not include anything beyond girl/girl work, she has decided to take things to the next level and get back to working with some of the industry's finest meat offerings. And everyone knows they have been eager to get back inside the breast-blessed beauty.
"It's something I have been pondering for a while and finally I just couldn't take it anymore, I need to get some cock!" Sofi said. "Fans have been asking for it, of course, a lot, and I just can't say no anymore, for both their sake and for mine. Bring it on!"
Miss Sofi and her relished rack are headed to Pittsburgh this week where she and they will be on full display Friday and Saturday at Cheerleaders in Pittsburgh.
To make things even more exciting, it's St. Patrick's Day weekend, so everyone will already be in party mode. Toss in a beauty like Sofi as the center of attention and you have the luckiest place to be in the whole region. To get locals warmed up, Sofi went on Mark Madden's Monday podcast where they cover the Penguins, the Antonio Brown trade and running back Le'Veon Bell's future.
"I'm really excited to be headed to Pittsburgh, one of my favorite cities in all of America!" Sofi said. "It's also one of my favorite holidays, so I hope everyone who's coming is ready to party! I am going to make sure it's everyone's favorite holiday by the end of the weekend!"
Prepare for Sofi's arrival by watching her new "Mean Pearls" scene with Nicolette Shea, which went live on the Twistys' When Girls Play website last week.