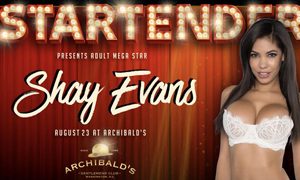 Shay Evans is going to Washington DC and it's not for the reason you might think.
No, Shay didn't just win a congressional special election that will rip her from the claws of Porn Valley for the hallowed halls of the U.S,.House of Representatives – but she may well end up hanging with that same crowd. Shay is going to DC to be a bartender.
As part of the Startendersbartenders series, Shay will be slinging drinks at Archibald's Gentlemen's Club on K Street on August 23 and 24 and the busty Puerto Rican Princess is extremely excited to help DC locals get their drink on.
"I've always kind of wanted to be a bartender and this is going to be one of those amazing opportunities," Shay said. "I can't wait to fill those glasses and mugs and help make everyone's night a little bit better. It's going to be crazy and I bet by the night is done they'll be ready to make Puerto Rico the 51st state!"
Shay will get behind the bar around 7 pm on Thursday, Aug. 23 and work it until 2 am on Friday morning.
"Oh, I'm used to long days," she said. "I just know everyone will be cool and we'll have an awesome time!"
Get your drinks from Shay Evans on Aug 23 asStartenders presents Her Hotness™ at Archibald's Gentlemen's Club, 1520 K St NW, Washington, DC 20005 from 7 pm to 2 am.
Get your admission taken care of in advance by going to https://www.eventbrite.com/e/startenders-presents-shay-evans-tickets-48630451991.