V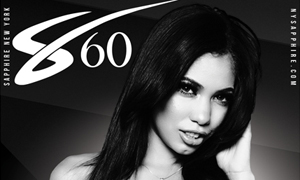 ENICE, CA – America's favorite Puerto Rican porn star is ready to take Manhattan.
No, it's not time for the Puerto Rican Day Parade, though she will likely be celebrated there soon enough; for the moment she will settle on a big one-night gig at Sapphire New York next Friday, February 23. She will be taking the stage at Sapphire New York, a dream for every woman who endeavors on a feature dancing career.
"Featuring in New York City at Sapphire is a landmark moment for me," Shay said. "I love that it's a one-night, winner-take-all kind of moment, and I am totally stoked to be headed there next week. I hope to see all my friends and fans from the five boroughs at the show next Friday night – we're going to have so much fun!"
She'll be doing lap dances, posing for photos, signing autographs, doing DVD giveaways and generally charming the hell out of everyone she meets. It's the Shay way!
Sapphire NYC is located at 333 E 60th St, New York, NY 10022. For more information call 212.421.3600 or go to https://www.nysapphire.com/NY-Sapphire-Adult-Star-Shay-Evans-Live.html.
Check out Shay's latest mindblowing scenes for Brazzers by visiting https://www.brazzersnetwork.com/profile/view/id/2657/shay-evans/?ats=eyJhIjoyMzQyNjgsImMiOjQ5Mzg5MjY4LCJuIjoxNCwicyI6OTAsImUiOjI3MCwicCI6Mn0.
Read Shay's Fleshbot interview at http://straight.fleshbot.com/6022953/twenty-questions-with-hot-porn-newbie-shay-evans.
Social:
Twitter & Instagram: @Yayy4shay
OnlyFans: https://onlyfans.com/shayevans
Booking:
Shoots: LA Direct Models: http://www.ladirectmodels.com/model.php?n=ShayEvans
Featuring: Lee Network: http://theleenetwork.com/stars.php?id=170
Press/Media Contact: Rising Star PR, info@risingstarpr.com, @RisingStarPR
For everything Shay Evans go to http://risingstarpr.com/clients/shay-evans/.