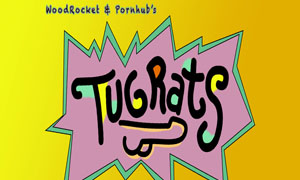 Woodland Hills, California – Get Nakedlodeon and grab your Nickelotion because WoodRocket is Nickelruining your childhood with Tugrats, the live-action porn parody of the show you never thought you'd see a porn parody of, Rugrats. You're Nickelwelcome!
Tugrats premieres Wednesday, January 31st on WoodRocket.com for free, with a Premium Extended Version containing a bonus Angelica & Cynthia Sex Scene available exclusively on Pornhub Premium.
Tommy, Chuckie, Susie, Phil, and Lil are having a hard time thinking of fun things to do now that they are adults. Even worse, Angelica shows up uninvited to make things harder. Especially in Chuckie's pants! A game of hide and seek turns sexy and weird when a bottle of when the gang of diapered adults find Stu's boner pills.
Tugrats was written and directed by April O'Neil and Vuko, produced by Lee Roy Myers and Seth's Beard, and stars Lena Paul, Robby Echo, Daisy Ducati, Arielle Aquinas, Shawn Fox, and Joeydotrawr.
Hold on to your adult diapers because Tugrats is sure to get your Reptar roaring!
Watch the SFW trailer of Tugrats on YouTube at https://www.youtube.com/watch?v=scqvTimRM20.
Check out Tugrats on WoodRocket.com!
The Uncut Angelica & Cynthia Version is available exclusively at PornhubPremium.com!
WoodRocket mixes porn, comedy, pop culture, and it redefines adult entertainment. Creating popular high-quality stuff like Ask A Porn Star, Topless Girls Reading Books, Porn Stars Reading Hate Mail, and porn parodies like Dick & Morty, Ten Inch Mutant Ninja Turtles, Fap To The Future, Strokémon, and Bob's Boners, WoodRocket is the future of porn. WoodRocket's content has been featured on Buzzfeed, Uproxx, Gizmodo, Maxim, Complex, AV Club, Spin, Rolling Stone, The Howard Stern Show, GQ, Vice, Esquire, The Hollywood Reporter, @Midnight, Bon Appetit, and more.