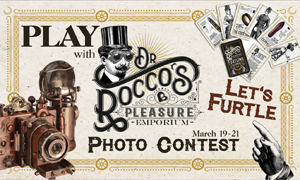 Eldorado Trading Company, the award-winning distributor of adult toys, lingerie, and party supplies announces a marketing collaboration with Rocks-Off to highlight their newest brand, Dr. Rocco's Pleasure Emporium. The social media photo contest will focus on the Dr. Rocco's furtling cards. Furtling is the Victorian era entertainment of erotic hand manipulation. Each furtling card features steampunk-themed artwork as well as a product from the Rocks-Off line. Eldorado has been shipping Rocks-off furtling cards to retailers in preparation of this promotion.
The 'Play with Dr. Rocco's Pleasure Emporium' Facebook contest begins Tuesday March 19 and concludes by end of day on Thursday, March 21. Contest participants enter the contest by sharing a furtling photo to the contest post on the Eldorado Facebook page. This promotion is for retail stores and their employees only. Only one entry per person is allowed, but multiple entries per store by different employees are encouraged.
Five winners will be selected at random from qualifying photo submissions. Each winner will receive an impressive collection of Rocks-Off products. Winners will be announced on March 22 via the Eldorado Facebook page.
The Dr. Rocco's Pleasure Emporium collection is an exciting new line of 10 silicone products that appeals to steampunk aficionados for their lustre and patina of aged and forged metallic. Their "gadgets and remarkable devices will excite, titillate, and satisfy the most sexual appetites." Eldorado stocks the entire Dr. Rocco's Pleasure Emporium collection.
For more information about the 'Play with Dr. Rocco's Pleasure Emporium,' please see the Eldorado Facebook page on March 19 or contact the Eldorado Marketing Department.