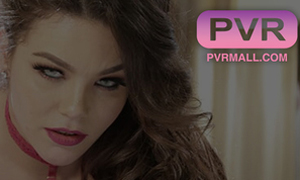 PVR FUN, a unique ecommerce destination for adult VR entertainment, launches a brand-new shopping experience on their marketplace, PVRMALL.com for fans who haven't yet made the leap into porn's virtual world.
The new 'risk free trial offer' plan offers a 96-hour FREE trial period of the company's brilliant PVR IRIS, the lightweight VR headset specially-made for watching adult films. The new user will receive free access to the video of the week during the trial period, and if the user decides to keep the PVR IRIS they will receive a year-long subscription on PVR.fun that unlocks all of the videos on PVR.fun from one studio of their choice from the list for one year, which includes HoloGirlsVR, Virtual Real Porn and GroobyVR's adult film catalog, with other studios to be added in the future.
New users need only put down a $199 USD deposit and activate the PVR IRIS at PVR.fun within 7 days (1 Week) of receiving the device; once activated, customers have 96 Hours (4 days) to decide whether to keep the new headset or return it – completely free of charge.
"The idea of watching adult films within the realm of virtual reality is still very new for many people, so we have made the process more inviting by simply sending over the PVR IRIS to see for yourself how unbelievable the VR experience truly is," said adult star Ela Darling, who serves as the company's Chief Marketing Officer.
PVR FUN's 'risk free trial offer' plan includes the world-class headset – a $299 value – a large library of VR porn videos available on demand, one year free access to the desired studio's library, one FREE VR video each week for a year (a $260 value) at pvr.fun, plus secure and discreet billing and a 100% deposit money-back guarantee.
If viewers choose to keep the headset, they need only email help@pvrmall.com and "let us know which studio you'd like to unlock for free and complete access to that studio's entire library at pvr.fun for a whole year," said Darling, adding that those that aren't interested may send a return request to the same email address at the end of the trial period for a full refund.
"Virtual reality is a true sensory experience, so we want to give shoppers the opportunity to try our products for free before buying them," said Darling. "There is no risk in purchasing a product you may not ultimately want – and if you do, you've made the decision without spending any money during the trial run – a win-win all around."
PVR.fun offers fans thousands of hardcore VR videos on demand, while the standalone IRIS
is feather-light in weight – less than half a pound – and a more comfortable to wear than leading VR sets, and plays the highest-quality VR videos (6K H.265), with crystal clear (2560*1440) resolution – more than 1.5X higher resolution compared to today's top brands – and long-lasting battery life (3 hours), without the assistance of an app or a smartphone.
The device also offers a smooth, streamlined video decoding capability, using less bandwidth than other VR devices, and a Fresnel optical system to keep viewers immersed in a virtual world without becoming dizzy or disoriented.
PVR IRIS currently offers a wide range of eye-popping adult content from , Badoink VR, VR Bangers,VRCosplayX and BabeVR, among many others.
To find out more about the standalone PVR IRIS headset and PVR.fun content site, visit https://pvrmall.com or find the device at Amazon.com.