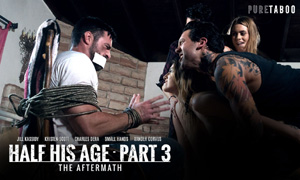 Montreal, QC – PureTaboo, the incendiary new studio and website from Gamma Films specializing in 'forbidden' erotic themes, is set to release the penetrating conclusion of its original series, Half His Age: A Teen Tragedy, available October 12 exclusively at PureTaboo.com.
Half His Age: Part 3 'The Aftermath' concludes Half His Age as Dera faces the consequences of his depraved actions as the series closes with a three-way (with Dera, Kassidy and Scott), and a four-way that includes Xander Corvus and Small Hands. Part 3 – 'The Aftermath' achieves closure for a perverted high school teacher (Charles Dera) who began a secret affair with his young student (Jill Kassidy), got caught by a fellow student (Kristen Scott) who threatens to tell, and a final act of revenge.
"The Half His Age series is already a fan favorite – the inappropriate teacher/student relationship is so exciting and so wrong – and resonates with our fans," said PureTaboo's Bree Mills, who directed the Half His Age trilogy with Craven Moorehead.
"The acting is incredible – Jill Kassidy and Kristen Scott took their roles seriously and it shows in their dramatic talents," said Mills, who also serves as Gamma Films' Head of Production. "They brought the same intensity to their acting that they did in their sex scenes… no easy feat. Fans will be impressed with their performances."
"Sex can be positive, negative – and very, very complicated," concluded Mills.  "We want to explore these complicated themes that feel like a mainstream feature film, but with the added benefit of hardcore sex."
Half His Age Part 1: 'The Affair' and Part 2: 'The Threat' are both available now as web-only releases for PureTaboo.com members, and VOD subscribers; production extras such as photos and a model/cast pages are available as well. The entirety of Half His Age: A Teen Tragedy are available on DVD 
October 17
.
Follow PureTaboo and Bree Mills on social media:
Twitter.com/TheBreeMills
ABOUT PURE TABOO:
Launched in September 2017, PureTaboo is the latest studio operated by the Gamma Films Group, the production arm of adult company Gamma Entertainment. Helmed by XBIZ and AVN award-winning director Bree Mills and promoting the tagline 'Some taboos are meant to be broken', PureTaboo features the most popular and up-and-coming faces in adult today, challenging themselves to bring acting and sexual performances in a way viewers have never seen before.
Mills and the PureTaboo team are committed to taking taboo porn seriously, with storylines tackling society's accepted – but most intriguing – sexual circumstances: innapropriate family relations, compulsions, teen virgin, sexual perversions and the hidden corners of the viewer's psyche.
"We hope to leave you equally shocked and aroused," says Mills. "After all, aren't some taboos meant to be broken?"