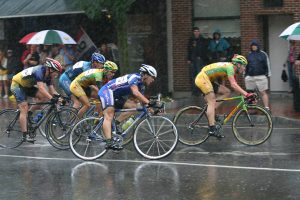 A London-based bicycling club made up of over a hundred adult-industry denizens, including performers, producers, and distributors, has been abruptly booted from the British Cycling organization.
The PPCC—Porn Pedallers Cycling Club—has been operational since 2016, according to The Sun, and has raised thousands of pounds in funds for the Terrence Higgins Trust, an HIV and sexual health charity, since its inception. It's also rubbed elbows with mainstream cycling notables Sir Chris Hoy and Geraint Thomas.
But PPCC's good deeds and high status notwithstanding, on March 5, the British national governing body of the Union Cycliste Internationale (UCI) told the club, "We have been made aware the club name stands for 'Porn Pedallers Cycling Club.'"
Since UCI regulations state that "pornographic business products or any other products that might damage the image of the UCI or the sport of cycling, in general, shall be associated directly or indirectly with a licence-holder," British Cycling said, "As such, we would be unable to accept your affiliation at this time."
The Porn Pedallers, who—on top of having a brilliant club name—call themselves "a ramshackle bunch of cycling enthusiasts who happen to work in or around the UK adult entertainment industry," tweeted in response, "Cycling is for everyone. Except people like us."
BREAKING NEWS: Cycling is for everyone. Except people like us @pornpedallers. Today @BritishCycling revoked our club affiliation because PPCC breaches @UCI_cycling regulation 1.1.089. We're just a cycling club, riding for fun & raising money for @THTorguk. Is this justified?👍👎 pic.twitter.com/dBAqWpOFFx

— Porn Pedallers (@pornpedallers) March 5, 2019
It's a shame that a group of cycling enthusiasts who promote cycling, fitness, and sexual health through their club are being shamed for the legal work that they do, all because the UCI is worried about their "image." But this may not be the end of the Porn Pedallers.
After British media exploded with hilarious headlines about the smut-induced debacle, British Cycling reported to Cycling Weekly, "We try to support everyone who actively encourages others to take up cycling, and we appreciate the efforts of everyone who contributes to our sport. As such, we are talking with the club and offering constructive advice on what it will take for them to meet with regulations."
Bicycle race image by Paul Chessare