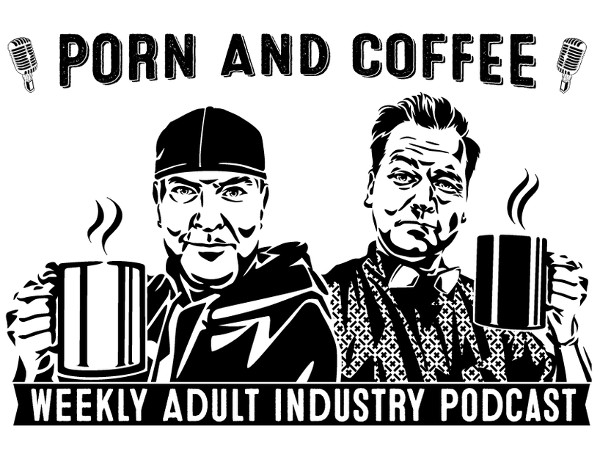 CYBERSPACE – One year after its debut, the adult industry podcast Porn and Coffee has published a special holiday episode containing some of the best moments from the past as well as predictions for the future.
"To help us all ring in the new year, we combed through everything to locate 12 of our funniest clips from over the past year," said YNOT Group LLC co-owner Jay Kopita, who co-hosts the show with Thomas Skavhellen. "We also wax poetic on the past and throw in a few 2017 predictions of our own in this episode."
Over the past year, Skavhellen and Kopita — "naked and caffeinated and ready to go," — have interviewed transman Buck Angel, Richard Buss of YNOT Mail, performer Angela White, Andy Alvarez of Webmaster Central, controversial performer James Deen, Joey Gabra of Affil4You, Steve Lightspeed of 2Hot4FB, former Free Speech Coalition chief Diane Duke and Shay Efron of PussyCash. All reviewed their careers, revealed a few embarrassing moments and joked around with the hosts.
Many also predicted what hot trends may hit the industry next. Virtual reality was a common thread.
"Most of the people in the industry truly believe in VR," Skavhellen said. "In the future, they look for more senses. Smelling porn is one of them."
He also said companies and individuals likely will expand their endeavors in the mainstream.
Some guests predicted the live-cam vertical will continue to grow. Others speculated sex robots may be on the horizon. As for industry trade shows?
"I see more people not going to shows for some reason, or going to different ones," Kopita said. "I think a lot of the standby stuff over the last few years is going to be changed."
Kopita and Skavhellen agreed with most of the predictions—although Kopita admitted he's not a good prognosticator. The vision of the future both men see, though, is a continuation of the riot that is Porn and Coffee.
"After taking a near 10-year hiatus from doing adult industry podcasting, I couldn't think of a better person to dive back into it with," Kopita said of co-host Skavhellen. "Thomas is an amazing show host. Porn and Coffee has produced a lot of laughs, learning, business opportunities and branding."
The holiday episode, sponsored by Adult Force and the Gaelic WWW Conference 2017, will be the main event on the broadcast's website through early January, Kopita said. Although all episodes are broadcast live, P&C maintains an archive in case anyone wants to listen later.