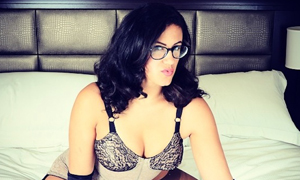 Kinky Mommy Dom Penny Barber has been very busy over the last few months filming an insane amount of scenes and clips, as well as relaunching her official site.
Penny recently shot for the first time with award-winning trans performer Natalie Mars. The 26-minute clip "Natalie Mars Demoted From Secretary To Office Diaper Slut" has Natalie cast as Penny's new secretary, but she's incompetent. Plus, she gets caught sending naughty baby supplies to the office, which Penny sees as a way to get her naked and humiliate her. Natalie can keep her job, as long as she does what Big Boss Penny says and wears all that baby gear. Buy the clip and get a sneak peek by watching the trailer at Clips4Sale.
Penny recently relaunched her POV taboo website Taboo View. The revamped site is more user- friendly, has tons of new and classic videos starring Penny, exclusive photo sets, a calendar of all her upcoming scenes, the ability to tip the pretty lady, link to her Amazon wishlist and her Verified Call, and much more. It's easy to create an account, and for less than $30 a month, you can get more Penny and her pals than you can handle.
"It was amazing to work with Natalie, and I can't wait to work with her again when I'm in Vegas," says Penny Barber. "She's a consummate performer and actress, plus she's stunning and likes to be dominated. I hope all my fans will not only purchase the clips, but also join my official website. I've spent a lot of time giving it a facelift with a new look and attitude. It's a great deal for so much content and some of my finest scenes."
To work with Penny or order a custom, hit up her manager at mr.samsolo@gmail.com.
To interview Penny Barber for your site, show, or publication, contact Erika Icon of The Rub PR at erika@therubpr.com.