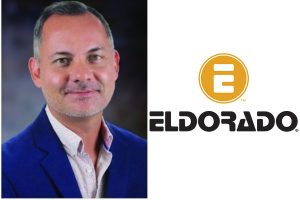 BROOMFIELD, Colo. – Eldorado Trading Company announced today that Patrick Lyons has returned to the company to serve as its marketing director.
"It's like coming home and I couldn't be more excited to rejoin such a dynamic leader in adult distribution," Lyons said of his return to Eldorado. "I'm excited to use my enhanced knowledge not only to help Eldorado, but also assist the growth of our customers and manufacturing partners."
Lyons, who has over 20 years of professional marketing experience in manufacturing, distribution, consumer packaged goods, and e-commerce, will be responsible for developing and executing the company's overall marketing strategy. He's also tasked with growing Eldorado's relationships with manufacturers and retailers in pursuit of positioning Eldorado as a leader in the adult product distribution space.
Eldorado CEO Wanda Garland said the company is as pleased to have Lyons return as he is to be back.
"We are very excited to have Patrick back on the Eldorado team," Garland said. "His experience in all aspects of the industry will complement our strategy for Eldorado to continue to be an innovative distribution leader."
Prior to his return to Eldorado, Lyons spent three years as the VP of marketing for Jimmyjane, Pipedream, and Sir Richard's.
For more information on Eldorado Trading Company, visit Eldorado.net.