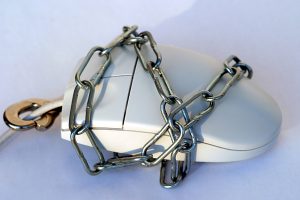 LONDON — As talk of "age verification" heats up, now might be a good time to remember that "disruptive" technologies can sometimes benefit only the disruptor.
The idea of disrupting the status quo through technical innovation can sound very attractive when explained by any capable CEO. Remember cell phones back before Apple and others "disrupted" the market with smartphones? Cell phones are a lot more useful now. How about all those trips to the store you're saving yourself these days because of your Amazon Prime membership? And Amazon even tossed in a video streaming service at no extra cost because, hey, why not toss out your cable TV bill at the same time? Hard to argue with that kind of progress unless you're a cable company.
In each of these cases there are winners and losers. Many retail stores like Toys 'R Us are failing because of these rapid changes to how consumers are buying goods. Disney stock is down due to investor concerns that "cord cutters," who are abandoning cable, are hurting the profitability of Disney's ESPN brand.
Most people aren't going to shed a tear for Disney, a very aggressive entertainment company that has been accused of cutthroat tactics itself. Plus, Disney is responding to the changes by building its own streaming service for which it will leverage its formidable content library. So, the "disruption" here is just fueling new innovations that will benefit consumers, at least in theory. Brick and mortar retailers like Toys 'R Us slayed no small number of family run toy stores in its day, so again, most of us couldn't care less as that Titanic sinks into the cold waters of capitalism.
But what happens when the disruptive technology doesn't arrive because of consumer demand, but instead gets pushed onto an industry because politicians mandated its use?
Just when we thought we were done with the "age verification" scheme, along comes the British government to give it a new go. By now, it's no longer news that England passed laws that will soon require companies offering porn to UK citizens to place it behind an "age verification" screen.
"One of the missions of age verification is to harness the freedom of the internet while mitigating its harms," said Digital Minister Matt Hancock. "Offline, as a society we protect children from viewing inappropriate adult material by ensuring pornography is sold responsibly using appropriate age checks. It is now time that the online world follows suit."
In America, we fought this battle in the 1990s and into the early 2000s. At first, the arguments for "age verification" sound pretty good, you must admit. Responsible adult companies actually DO NOT want children looking at their content. And it could even weed out the freeloaders, so everyone wins, right?
But the more America debated this topic, the more it became clear that censorship wasn't in the best interests of an enlightened society that values the free exchange of ideas. Proponents of legal restrictions on adult content never could explain why parents can't take responsibility for their own children. Responsible parents have a large number of options at their disposal with respect to software that filters porn. There's also the option for parents to simply monitor their children's use of the Internet, just to name a few approaches that don't burden adult speech online.
When governments decide to censor content online, they naturally need to impose penalties on those who don't comply with their requirements. So that opens up that whole discussion around what constitutes pornography anyway, and whether artists will self-censor just "in case."
Age verification doesn't stop determined children from accessing porn. All they need is their dad's personal details, or a VPN. And surely parents can just use a filter of choice to guard against any accidental exposure – doesn't that make more sense than imposing burdensome "disruptive" technology on thousands of businesses and artists and inconveniencing millions of adults in the process?
But it gets even worse. Since the last round of debate on age verification we've learned a few things. Namely, personal data isn't safe online. It would be tempting to point at the firestorm around Facebook right now, but the better example is probably Ashley Madison, the dating website for married people. You know, the life is short, so the hell with caring about that idiot who married you company? Remember all the fun that happened when hackers got ahold of their user data and decided to be friendly and share it with everyone else online? One man committed suicide when he was exposed in that data breech.
The "age verification" companies, who someone once convincingly told me would better be called "data verification companies" since they can't be sure who's on the other end of the verification request, probably have some pretty good ideas on how they can assure you that your personal details are safe with them. And it's entirely possible that every last one of them is sincere in their determination to protect their customers from unintended exposure.
But here's the problem: no matter what they tell you, no matter how they insist that their method is foolproof, will consumers believe them? Will consumers feel comfortable pulling up that BDSM site when they can't be sure every website they visit isn't being tracked?
And for those of you who are thinking you don't care what the UK does, you might want to look rather closely at what the people behind this push are saying because, I'd argue, they have their sights set a lot wider than the UK market alone.
"The UK is leading the way with this age-verification regime and will set an international precedent in child protection," said David Austin, CEO of the British Board of Film Classification (BBFC).
And how about this recent quote from Steve Winyard, co-founder and CMO of AVSecure:
"I think it was the XBIZ show in May 2012 when I first spoke on a panel about the possibility of AV hitting the industry and here we are today with the U.K. setting the standards I know most of the world will quickly follow."
He adds, "Not being an adult company makes a huge difference in the age-verification business. It opens the doors to government and regulators with ease, allows us to be trusted due to our independence and it's hardly surprising we are in deep discussions with several countries who want to use AVSecure."
Yikes! Hardly surprising indeed, especially if there is lobbying going on by those who stand to gain the most with this, to use Mr. Austin's term, regime.
Responsible adult entertainment companies have taken a lot of hits, and the industry today barely resembles the one of just ten years ago. The industry spent years reeling from the "disruptive" arrival of tube sites, for example. Video companies disappeared, and a whole lot of consolidation took place. What kind of a hit would its market share take if its audience was forced to essentially register with an online database before accessing adult content? How many UK citizens would just look to the darker places of the web for their porn instead of using the responsible companies who tried to follow the rules?
Maybe instead of jumping on the "AV" bandwagon adult companies outside of the UK could instead simply sacrifice its British market by re-directing them to a Disney site of choice. Then when its citizens get sick of being treated like children they can tell their politicians that this kind of blanket censorship of the internet is not a good idea.