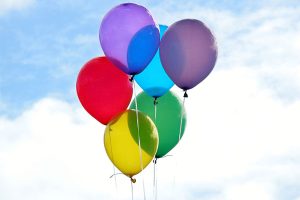 Tampa, FL — Balloons and inflatables are a growing fetish, and the people who partake in them are called "looners." From inflating balloons to inflatable sex dolls and inflatable suits, the wide world of looning is a very exciting fetish many people are starting to delve into.
For those who have ever wondered about looning, Monthly Fetish has you covered with their January 2018 issue. The issue is packed with informative articles about how to find other looners online, the amazing world of balloon art, the history of balloon fetish, the basics you need to become a looner and an outrageous story about a hot load of air that brought one young British man over $5k a month and landed him on a U.K. court show.
This month's coveted Monthly Fetish "Unbound" interview went to Rocco Bach of RubYourToy, the number one inflatable store on Clips4Sale. Bach clears up misunderstandings people have about looning and inflatables with this up close and very personal feature. He discussed the attraction to inflatables, what types of clips are most popular in his store, what's the ultimate inflatable and much more.
"The looners are a small, but tight-knit community," says Monthly Fetish editor Jenn. "Many people are curious about the fetish but don't know where to start. We hope this issue will help educate our readers and get them on the right path and open more than a few minds to a fetish they never even knew existed."
Check out the Looning edition of Monthly Fetish and previous issues here. Ask them anything you want to know about fetish here.
Image via Lisa.