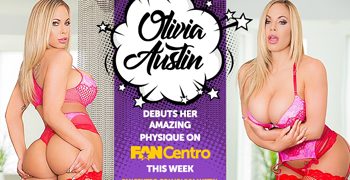 Cyberspace – In the entire history of the world, you won't find a prettier girl than Olivia Austin. Her measurements and mind-blowing, but when you meet her you realize it's actually her innate sense of style and sensuality that set her apart in modern modeling circles. As one of the unique talents in the OCModeling lineup, Olivia is quickly carving out her own fanbase and now she is accelerating her stardom even faster with a new influencer account at FanCentro.com!
"I spoke to some of the other ladies at OCModeling, and to the studio management team before signing up," said Olivia Austin. "Everyone had so many positive things to say about Stan and his team. I was like, why didn't anyone tell me about this sooner?! Anyway, from the first time I signed on right up to now it's been a terrific experience. My Social Media audience is growing, my brand is reaching further and most importantly of all – my fans are getting exactly what they all want!"
"Olivia Austin is a girl who could do just about anything and succeed at it," said Sandra of OCModeling.com "She is so pretty that some overlook all of her other amazing attributes, but getting to know her while working together, it has become clear that Ms. Austin is one of the most savvy models you will ever meet. At www.ocmodeling.com we look for new fresh talent capable of taking their own career to the next level, and with our support and that of the FanCentro team, it's all happening for her and her fans right now."
"A truly awe-inspiring talent," added Stan of FanCentro.com. "We aren't just looking to add 'some models', we want to add all the best models and to work together to continue improving every aspect of the tools we provide for influencers and performers seeking even more revenue from their time online."
To learn more and earn more visit https://fancentro.com/sell, and to see why so many critics agree that Olivia Austin is one of today's top talents be sure to take a long hard look at her new FanCentro page: https://fancentro.com/oliviaaustin and affiliates can promote this gorgeous girl along with many other top models on the www.MCProfits.com network right now!