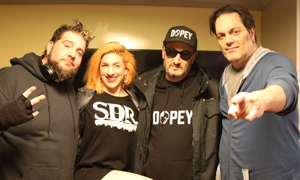 This week popular New York City comedy podcast, The SDR Show, welcomed burlesque star Olive TuPartie on a very special episode where she performed a sexy strip every time her fellow guest, Dave Dopey from The Dopey Podcast, tales of addiction got too sad for the studio.
"On The SDR Show this week we have Dave from The Dopey Podcast, who had a sad yet inspiring story about when he lost his co-host to a drug relapse … and Big Jay and I were afraid we were going to get too depressed," says host Ralph Sutton. "So whenever the vibe got too deep, burlesque dancer Olivia TuPartie got naked and danced to lighten the mood for a minute, so we could reset and continue. It's a really fun episode and we hope you enjoy it as much as we did!"
"The show was a blast and absolutely lived up to their Sex, Drugs & RocknRoll name," says Olive who performs monthly at New York City's Slipper Room. "It was so much fun to bring my own party to the table, literally!"
Fans may watch the Olive TuPartie/Dave Dopey episode of The SDR Show on The SDR Show or on YouTube .