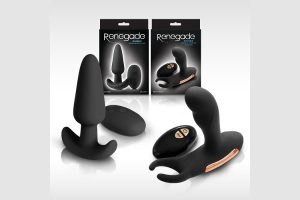 CHATSWORTH, Calif. — NS Novelties has announced the release of two new products in its "Renegade for Men" collection: The Renegade Sphinx and the Renegade Rumble which the company describe as "pleasure products designed for men who demand innovation, performance, and style."
The Renegade Sphinx features a heated, vibrating and flexible prostate massager, a vibrating "ball sac ring," two rechargeable motors and is made of body-safe silicone. The Sphinx can be used with a wireless controller (which is included with purchase), or independently for hands-free operation.
The Renegade Rumble is a wireless, vibrating butt-plug which is "designed to unleash deep, throbbing sensations." Made from a soft silicone, the Rumble is described as "seductively smooth with a curve base for secure fit and on-the-go ease."
Lavi of NS Novelties said the company excited to bring the products to market, in no small part because of customers' enthusiasm for previously released entries in the Renegade line.
"The fervor surrounding the Sphinx has been absolutely extraordinary and the excitement for the Rumble remarkable," Lavi said. "As men embrace their sensuality, they become savvy consumers, expecting the craftsmanship and innovation Renegade provides."
Other products in the Renegade line include the Revive prostate massager, three different versions of the Renegade vibrating massager (the Renegade I, Renegade II and Renegade III massagers) and the Renegade "Build A Cage" rings, among other offerings.
For the latest information on NS Novelties, visit NSNovelties.com and follow NS Novelties on Twitter (@NSNovlties), Tumblr, YouTube, and Facebook.